Yeh joins Medical Eye Center, WVU Medicine Jefferson Medical Center staff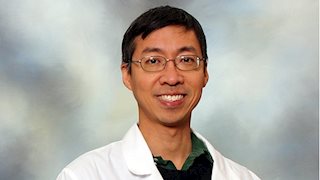 RANSON, W.Va. – David L. Yeh, M.D., board-certified ophthalmologist, has joined Gagan Singh, M.D., in practice at The Medical Eye Center in Charles Town.
Dr. Yeh received his medical degree from the University of Virginia in Charlottesville and completed his ophthalmology training at the Duke University Eye Center in Durham, North Carolina. He advanced his education with a fellowship in corneal, anterior segment, and refractive surgery at the Cullen Eye Institute at the Baylor College of Medicine in Houston, Texas.
Yeh has been in private practice since 2006. He has extensive experience in treating corneal disease and performing complex cataract surgery and laser vision correction (LASIK). He specializes in treating a variety of eye conditions, including diabetes, glaucoma, macular degeneration, and preventive care.
A member of the American Academy of Ophthalmology and the American Society of Cataract and Refractive Surgery, Yeh is a member of the medical staff at WVU Medicine Jefferson Medical Center in Ranson.
He is now accepting new patients at The Medical Eye Center, 710 Somerset Boulevard in Charles Town. To schedule an appointment, call 304-725-2121.
For more information: Teresa McCabe, Vice President of Marketing and Development, 304-264-1223