You can help stop the flu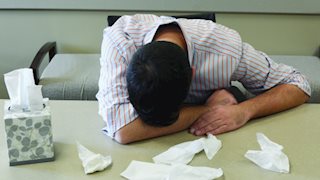 The best way to prevent seasonal flu is to get vaccinated each year. Good health habits can also help. Consider these:
1. Avoid close contact with people who are sick.
Keep your distance from others who are sick to protect yourself from getting sick, too.
2. Stay home if you are sick.
To help prevent spreading illness to others when you are sick, stay home from work and school and avoid running errands.
3. Cover your nose and mouth.
Use a tissue to cover your nose and mouth when coughing or sneezing. It may prevent those around you from getting sick.
4. Wash your hands.
Cleaning your hands often will help protect you from germs. Use an alcohol-based hand sanitizer if soap and water are not available.
5. Avoid touching your eyes, nose, or mouth.
Germs are often spread when a person touches an object like a door knob or handle and then touches his or her eyes, nose, or mouth.
WVU Medicine cares about protecting you from the flu virus, so all of our employees, medical staff, residents, and volunteers are now vaccinated against the flu. Call your WVU Medicine provider today to receive a flu vaccine.
Appointments: 855-WVU-CARE