Behavioral & Biomedical Sciences
Congratulations to the awardees of the 2019 Stevenson Scholarship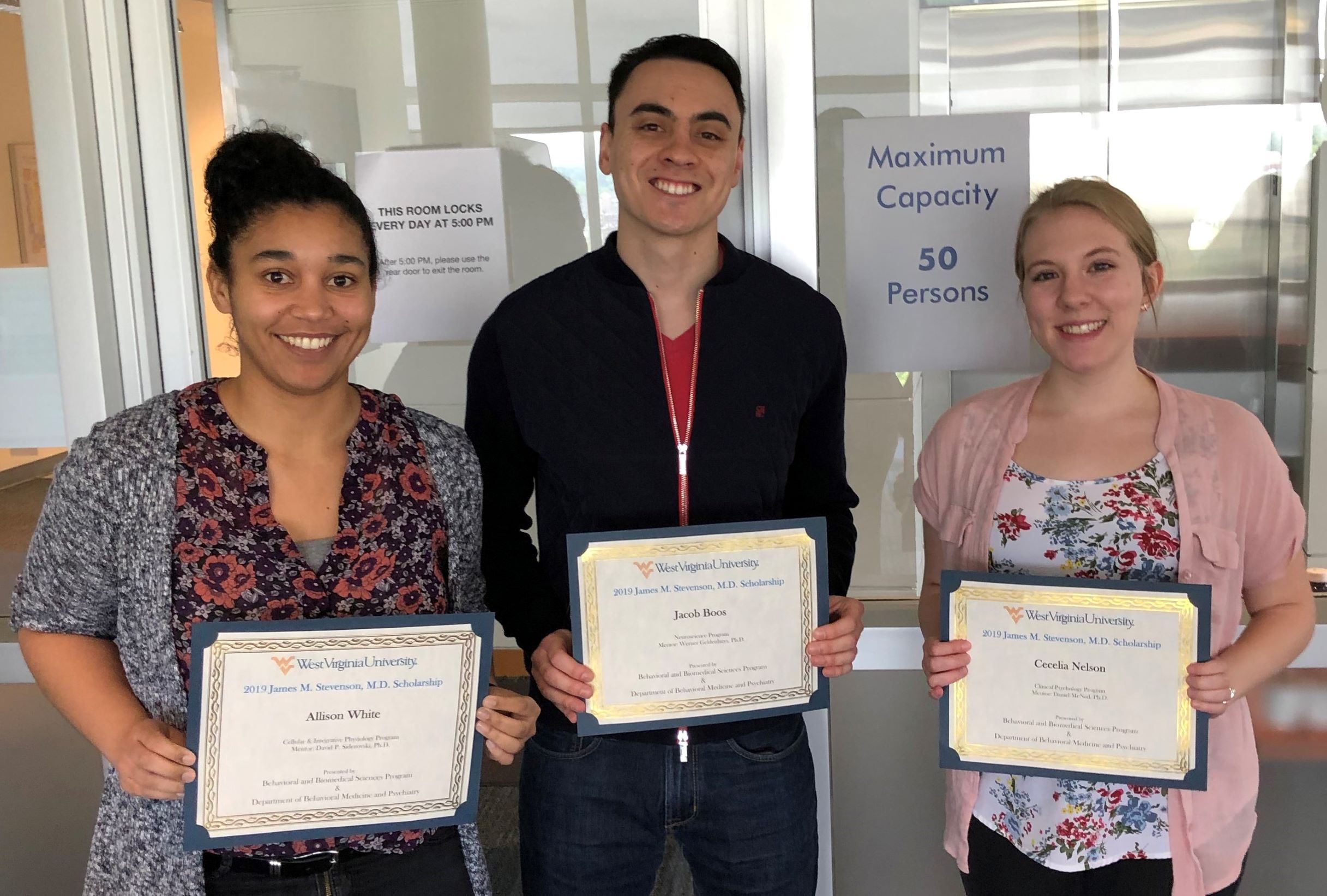 Jacob Boos; Mentor: Dr. Werner Geldenhuys  (Neuroscience)
Cecelia Nelson; Mentor: Dr. Dan McNeil (Clinical Psychology) 
Allison White; Mentor: Dr. Vincent Setola (Cellular and Integrative Physiology)
"The Stevenson Scholarship was established to recognize graduate students in fields related to Behavioral and Biomedical Sciences at West Virginia University as they pursue further education and professional development. The scholarship is in recognition of Dr. James Stevenson for his devotion to the Department of Behavioral Medicine and Psychiatry at West Virginia University."
NIH T32 Training Grant, Research Training Program in the Behavioral & Biomedical Sciences (BBS)
The West Virginia University (WVU) "Research Training Program in Behavioral and Biomedical Sciences" (BBS) trains scientists for careers as independent investigators through:
Rigorous predoctoral research training in the behavioral sciences, including analysis of behavior and behavioral neuroscience using animal and human subjects, disease-relevant clinical and translational behavioral research, and population-based behavioral research;
Strong grounding in the biomedical sciences, particularly as it relates to behavioral research;
Enhancement of quantitative skills and understanding of state-of-the-art methodology required for complex behavioral research; and
Development of scientific leadership skills important to directing multidisciplinary research projects.
The BBS Training Program is supported by NIGMS grant T32 GM081741.

"The BBS Training Program has helped expand my research, provided necessary skills for future grant submissions, as well as advanced my development as a researcher. Being a T32 trainee opened up multiple opportunities to meet people outside of my department/program/college and make connections that otherwise would not have been made." Molly Crowe, former BBS Trainee now a Postdoctoral Researcher in Physiology and Biophysics at Virginia Commonwealth University. 
"The BBS T32 has helped my epidemiology training become more translational by enabling me the opportunity to do a clinical immersion and a lab rotation, in addition to my coursework. Additionally, it has allowed me the time to expand my dissertation health project to multiple medical clinics, strengthening my skills in primary data collection as a survey coordinator." Termeh Feinberg, former BBS trainee now a Postdoctoral Researcher at Johns Hopkins University.