Evening of Science
The Evening of Science is a series of informal gatherings to discuss science in a way that crosses traditional program boundaries by focusing on teams versus individual efforts.
By having discussions revolving around team science, and inviting researchers from all across our campus, we attempt to erase the physical barriers to collaboration that normally exist.  If researchers only practice their "craft" within their own departments day to day, it may be difficult for them to pursue other lines of thinking that may benefit their projects.  When they attend an Evening of Science event, there is a very real possibility that they will hear something in a presentation that not only sparks interest, but presents a way to solve a problem within their own research-perhaps something they never would have thought of otherwise.  It seems to be working!  We believe the organic way in which researchers are permitted to discuss science at the events is crucial to making collaborations possible.  
For example, Dr. Jim Simpkins' group met with Dr. Joseph McFadden and discovered the Metabolomics Core.  This is helping their effort on myelin development.  Additionally through the Evening of Science event, Dr. Steven Frisch was introduced to the Mitochondrial Functional Assessment Core, and now has a publication using this service.  Dr. Elizabeth Engler-Chiurazzi's presentation of the Rodent Behavior Core resulted in new projects within the laboratories of Dr. Gordon Meares, Dr. Mark Olfert and others.  These are just a few of the collaborations the Evening of Science has produced.  Join us for one of our next events!
Next Evening of Science
"Programmatic Strategy focused on Toxicology – Addressing Health Challenges in Appalachia"
January 29, 2020, 4:00 PM to 6:00 PM, Evansdale Crossing
Speakers:  Drs. Tim Nurkiewicz, Salik Hussain, and John Hollander. 
If you plan to attend, please RSVP.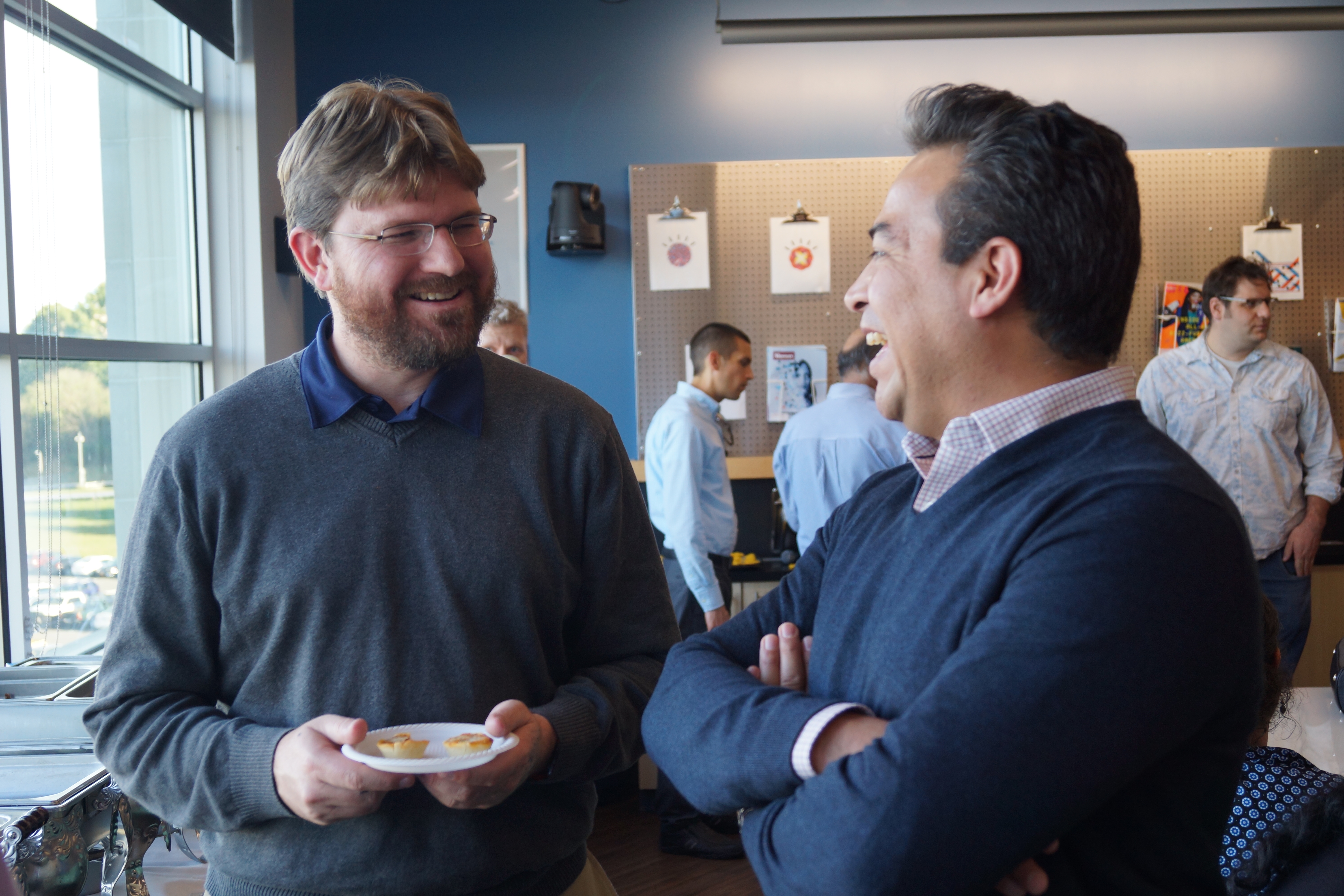 Past Events
"Image is Everything: Using In Vivo Multifunctional Resonance to Get it Right" 
November 12, 2019, 4:00 PM- 6:00 PM, Evansdale Crossing, 4th Floor
"Pre-Clinical Positron Emission Tomography (PET) Capabilities at the HSC" - Raymond Raylman, PhD
"Probes for In Vivo Biomedical EPR: What Can We Measure?" - Benoit Driesschaert, PhD
"In Vivo Applications of Magnetic Resonance Techniques for Pre-Clinical Studies" - Andrey Bobko, PhD
Collaborative Efforts and New Directions in the School of Dentistry: September 2019
Focus on: Wellness to Welcome Spring 2019
"Optimizing Health and Wellness in Athletes, Military, Patients, and the Population" - Joshua Hagen, PhD
"Mindfulness and Resiliency"- David Harshbarger
"Balance in Being: Mindful Wellness in Action"- Bill Reger-Nash, EdD
Focus on: Experimental Therapeutics
"Progress" – Paul Lockman, PhD – Assistant Vice President of Experimental Therapeutics; Professor, Benedum Fellow and the Mylan Endowed Chair
"Mentoring" – Gregory Dudley, PhD - Chair, C. Eugene Bennett Department of Chemistry, Eberly Family Distinguished Professor, Eberly College of Arts and Sciences
Therapeutics Lab Showcase
"New Capabilities" – Werner Geldenhuys, PhD - Associate Professor, Pharmaceutical Sciences – WVU School of Pharmacy
Focus on: Technopalooza II: Featuring Core Resources
Advanced Animal Imaging, BioPharma Finder 3.0, Chemical Analysis and Biotherapeutics, EM, Inhalation Facility, Metabolomics, Mitochondrial Function, Molecular Biology Core, Rodent Behavior, Super Resolution Microscopy, Zebrafish…and more!
Focus on: Neuroscience
Ali Rezai, MD – Executive Chair, Vice President of Neuroscience; Associate Dean, John D. Rockefeller IV tenured professor in neuroscience – Rockefeller Neuroscience Institute
Randy Nelson, PhD – Professor & Chair; Hazel Ruby McQuain Chair for Neurological Research; Director for Basic Science Research
Scott Galster, PhD – Director, Human Performance Research – Rockefeller Neuroscience Institute; Professor
Focus on: The Science of Collaboration
"Strengthening Collaborations Across Disciplines"
Moderator: William D. Ramsey, MD – AVP for Coordination and Logistics & Chief Collaboration Officer
Kathleen Cullen – Coordinator, Development of Major and Interdisciplinary Research – Statler College of Engineering and Mineral Resources
Stephenie Kennedy-Rea, EdD – Associate Director for Cancer Prevention and Control – WVU Cancer Institute
Julie Lockman, PhD – Director of Investigator Development – West Virginia Clinical and Translational Science Institute
Paul Speaker, PhD – Associate Professor, Finance – College of Business and Economics
Katie Stores, PhD – Associate Dean for External Research Development- Eberly College of Arts and Sciences
"The Art of Establishing ECAS/HSC Collaborations – A Case Study"
Gregory Dudley, PhD – Chair, C. Eugene Bennett Department of Chemistry, Eberly Family Distinguished Professor, Eberly College of Arts and Sciences
Werner Geldenhuys, PhD – Associate Professor, Pharmaceutical Sciences – WVU School of Pharmacy
Focus on: Diabetes
"Innovation and Scholarship: Update from the WVU Medicine Center for Diabetes and Metabolic Health" – Emma Morton-Eggleston, MD – Dean, Eastern Division, Associate Professor, Department of Medicine (Endocrinology)
"Vascular Pathology: The Role of Diabetes/MetS" – Paul Chantler, PhD – Associate Professor, Human Performance-Exercise Physiology
 "A Successful Model of Translating Diabetes Prevention & Management in Rural Communities" – Ranjita Misra, PhD – MPH Program Coordinator, Social & Behavioral Sciences
Focus on: Neurotechnology
"Current and future development of Neurotechnology at the RNI" - Victor S. Finomore Jr., Ph.D.
"Robotics at WVU: Building Multidisciplinary Collaborations" - YuGu, Ph.D.
"Neuromechanics of Human Movement: Applications for Rehabilitation and Device Design" - Jessica L. Allen, Ph.D.
"Interplay of Dynamics and Structure: Answers From Reaction Network Theory" - Casian A. Pantea, Ph.D.