Faculty Research
West Virginia University's Health Sciences Center is attracting the best and brightest talent from around the country and throughout the world.
Our mission is to improve the health and wellness of our state and nation's population by nurturing cutting-edge research programs aimed at solving real world problems.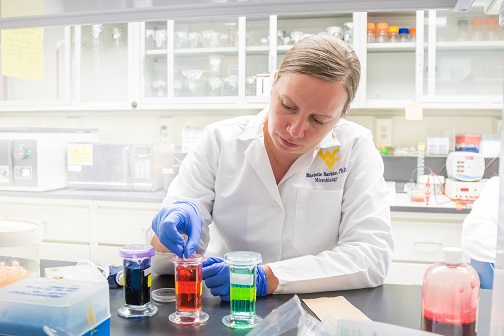 Mariette Barbier, Ph.D. - Assistant Professor, Microbiology, Immunology and Cell Biology, School of Medicine
Cystic fibrosis patients are at high risk for fatal infections of the lungs. WVU researcher Mariette Barbier is looking deep inside cells to find a weapon that kill one of the most challenging of the lung bacteria, Pseudomonas aeruginosa. The work is particularly urgent because of an alarming rise in the prevalence of bacteria that are resistant to antibiotics available to the medical community. Dr. Barbier hopes that her work can contribute to the development of new therapeutic treatments for bacterial infections of the lung.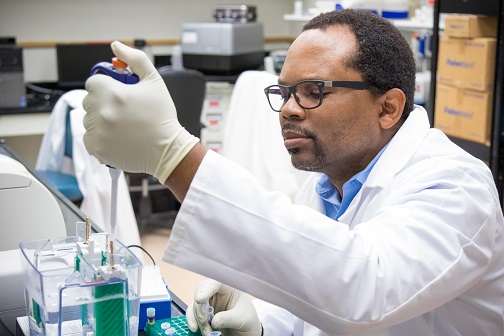 Erik Bey, Ph.D. - Assistant Professor, Pharmaceutical Sciences, School of Pharmacy
Dr. Bey's research at the WVU Cancer Institute focuses on the role genes play in the life and death of lung cancer cells. He's working on develop new drugs that can overcome the fierce resistance that cancer cells display in the face of very stressful environments. "There are antioxidant genes in cancer cells that make tumors stronger and harder for medicines to kill. They're important in the development of cancer stem cells - the cells that power the rapid growth of tumors and plant the seeds for new tumors in other parts of the body. We've got to understand how they work to design more effective therapeutics."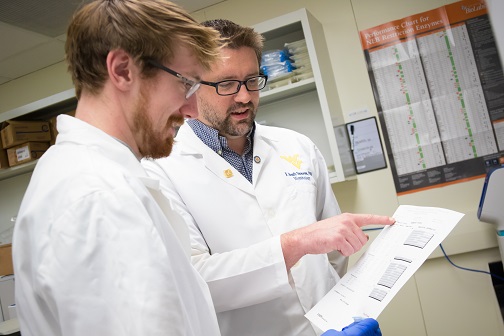 F. Heath Damron, Ph.D. - Assistant Professor, Microbiology, Immunology and Cell Biology, School of Medicine
Most Americans are not old enough to recall the whooping cough epidemics that swept the country regularly and killed thousands of infants and children before the introduction of pertussis vaccines in the 1940s. But elsewhere in the world whooping cough remains a deadly danger, claiming the lives of nearly 200,000 children annually. WVU researcher Heath Damron is working to prevent future deaths, both in the U.S. and across the world. "Over time, the vaccines available to pediatricians and parents become less effective," Dr. Damron said. "The first vaccines were replaced by a second generation in the 1990s. We need to develop the third generation now." It's a long, slow process, and the development time from the lab to a useful vaccine may be a decade or more. In his lab, he and his colleagues are testing some of the 4,000 proteins in the Bordatella pertussis bacteria to find the ones most likely to serve as targets for a new vaccine. "We really need to understand how lung cells respond to infection, and what signals we can send to the immune system to interfere with the infection's growth."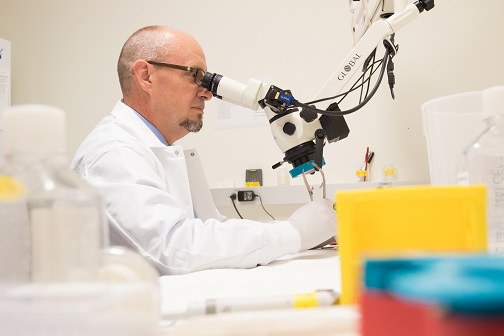 Paul Lockman, Ph.D. - Inaugural Douglas Glover Chair of Pharmaceutical Sciences and Associate Director for Translational Research, School of Pharmacy
Discovering how to block cancer's path into the brain has become priority No. 1 for many in the field, including one WVU scientist, Paul Lockman, who's taking a unique approach — one that involves mice, complex math and a mysterious structure known as the blood-brain barrier. His novel use of math to track the movement of substances through the brain will shed new light on key unanswered questions in the field. The implications of Lockman's findings could be monumental for the fight against cancer, arguably the most virulent and deadly form of brain cancer. His plan? Rather than fight to get drugs into the brain, let the body's own security system keep the cancer cells out. "If we can continue on this path, what we'd really like to do is stop the cancer cells from getting into the brain altogether," Lockman said. "Because then it's a win. If I can keep the cancer cells from ever getting into the brain, we can treat it. We can stop the whole process. We can beat it."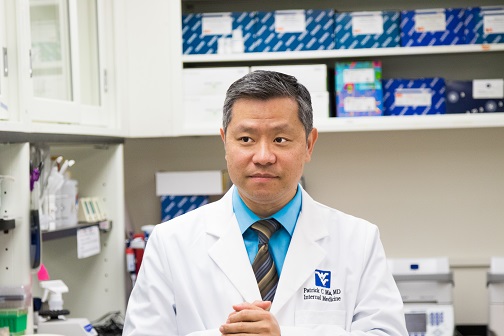 Patrick Ma, M.D. - Associate Professor, School of Medicine
Each year, more than 200,000 new cases of lung cancer are reported in the United States according to the American Cancer Society. West Virginia has one of the nation's highest incidence rates of lung cancer, with a mortality rate significantly higher than the national average. Dr. Ma is leading research to develop therapies to battle lung cancer. His research incorporates novel immunotherapies in clinical trials including a novel drug, nivolumab that is newly approved by the FDA. Specialized translational research efforts are being used in parallel with these clinical efforts to discover predictive biomarkers using bioinformatic analysis of the genomes of circulating tumor cells and immune cells.  Together these clinical and translational studies will lead to optimized personalized therapy for lung cancer. "We are working very hard to achieve effective therapies  for lung cancer," Ma explains. "As an optimistic oncologist,  I always look at the bright side of what we do and the value it provides."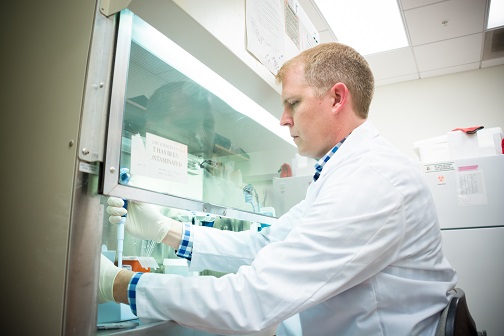 Gordon Meares, Ph.D. - Assistant Professor, Microbiology, Immunology and Cell Biology, School of Medicine
Multiple sclerosis, Alzheimer's, Parkinson's, and ALS are all neurodegenerative diseases that involve inflammation and it's not clear how inflammation contributes to the pathology of these diseases. WVU's Dr. Gordon Meares is focused on understanding molecular mechanisms driving inflammation in the brain and how to properly control inflammation in the central nervous system. In the whole body, inflammation and the immune system are critically important in protecting us from pathogens and various microbes and viruses. Thus, the big challenge is how to target inflammation that might be pathological with affecting normal inflammatory reactions. "Our goal is to understand how we can stop an inflammatory attack on the brain and find ways to reverse the damage that has already been done," he said. "We are using in vivo cell-specific genetic labeling of RNA coupled with next generation sequencing (RNA-seq) and bioinformatics to identify transcriptome-wide changes in gene and microRNA expression."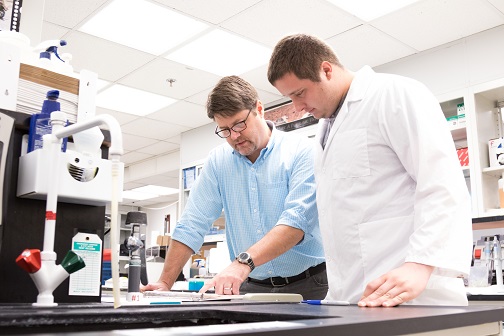 I. Mark Olfert, Ph.D. - Assistant Professor, Human Performance - Exercise Physiology, School of Medicine
Mark Olfert, PhD, RRT, FAHA, began his career as a respiratory therapist, and thought he wanted to become a physician. His participation in a research project was a pivotal experience that changed his future. "I got involved in a research project, and as soon as I started, I was hooked," Olfert recalls. Dr. Olfert's research program at WVU is currently directed at two national health crises where West Virginia unfortunately takes the lead: smoking and obesity. Recent studies in Olfert's lab measure the cardiovascular and pulmonary risks of e-cigarette smoking to fulfill the imperative need to inform the public. His lab is also part of a multidisciplinary team called the "FRUVEDomic" project that explores the utility of nutrition as a tool for precision medicine. "If we can show that adopting simple and easy to follow guidelines improves cardiovascular or metabolic health, such as having half of every meal contain fruits and vegetables, this likely provides the best chance for success in the real world," Olfert explained. He, along with the FRUVEDomic research team, believes if they can understand how specific foods impact body systems and biomarkers, this information may eventually be used to developed personal nutritional recommendations to help curb obesity and improve health.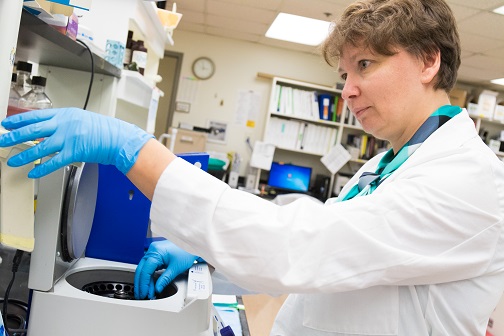 Elena Pugacheva, Ph.D. - Associate Professor, Biochemistry, School of Medicine
One in eight women will get breast cancer. Most scientific studies have looked at the early stages of breast cancer and have produced commendable results evidenced by the reduction in mortality rates in those diagnosed in Stages 1, 2 and 3. WVU researcher Dr. Elena Pugacheva focuses on metastatic Stage 4 breast cancer in which prognosis is terminal, with no cure. This type of research is rare. Her goal is to identify new targets and develop new drug therapeutics to treat metastatic breast cancers and thus, reduce cancer mortality. "It is clear that novel treatment strategies based on the specific pathobiology and sensitivity of metastases are required," Pugacheva said. Her lab is focused on finding a cure for stage 4 cancer patients whose only options are hospice or very aggressive chemotherapy. "Stage 4 survival rates are stagnant with no real improvements over the last decade, so finding treatments for these patients is a real priority for me."
Learn more about Dr. Pugacheva.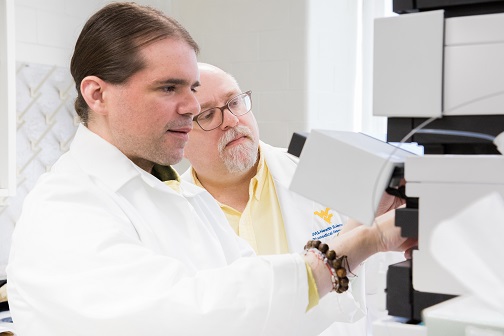 David Siderovski, Ph.D. - E.J. Van Liere Medicine Professor and Chairperson, Department of Physiology, Pharmacology & Neuroscience
Vincent Setola, Ph.D. - Assistant Professor, Department of Behavioral Medicine and Psychiatry
David Siderovski, Ph.D. and Vincent Setola, Ph.D. are teaming up to tackle the opioid addiction crisis that has hit West Virginia hard. Their research teams are collaborating to identify specific gene variations that affect the risk of developing drug addiction and to create new drug combinations that reduce addictive potential. "One variation we recently identified in patients with opioid use disorder associates with their level of anxiety," Dr. Siderovski said. "This finding supports work my lab performed 20 years ago using rodent models of anxiety and aggressive behavior." Siderovski and Setola continue to work to identify new strategies and therapeutic approaches for the prevention and treatment of substance abuse use disorders. "We want to find ways to remove the addictive potential of painkillers and to improve treatment strategies for those who become addicted,"  Dr. Setola said.
Learn more about Dr. Siderovski.