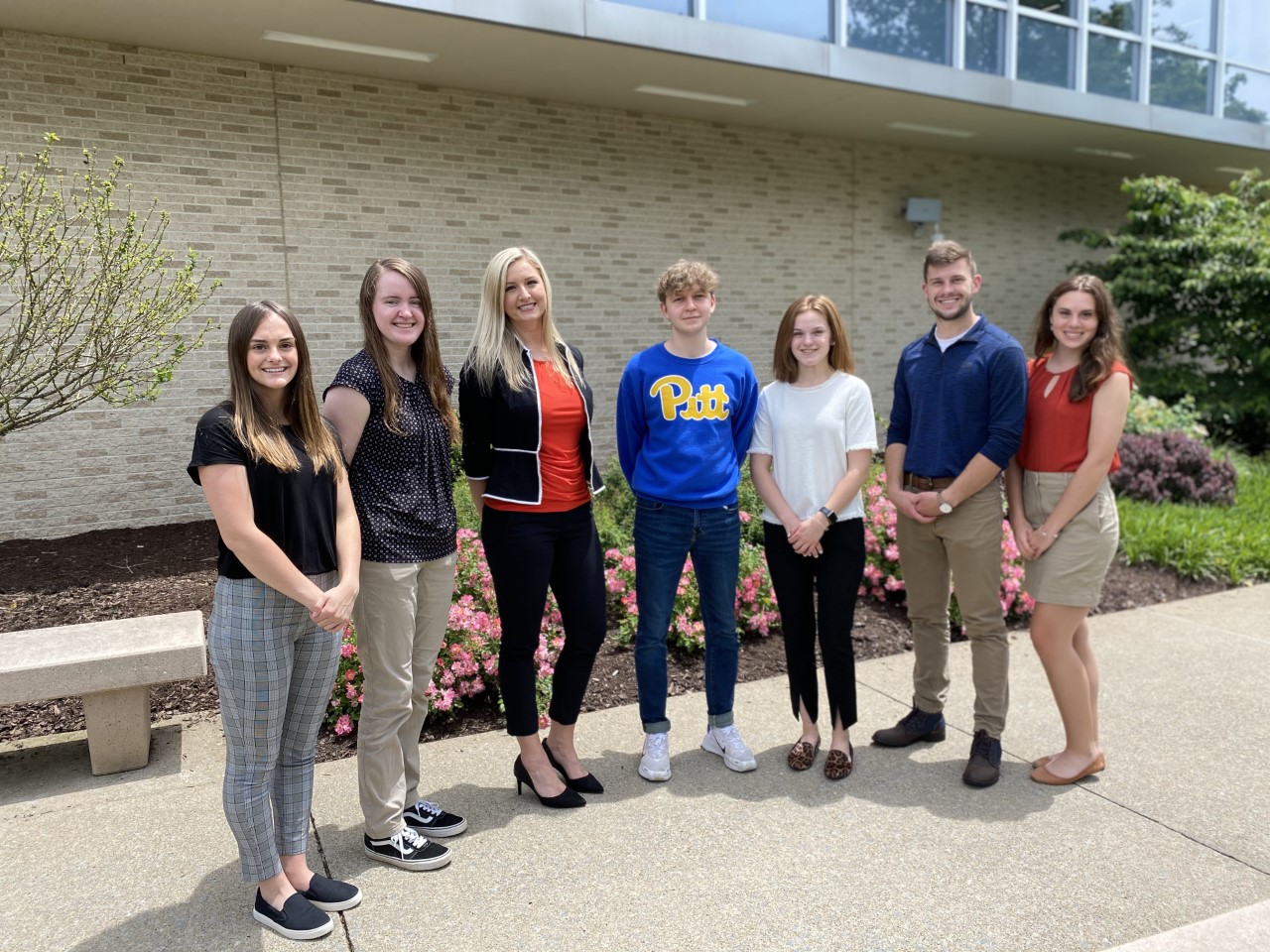 Picture - Left to right: Caitlin Cowell, Aryon Marshall, Ashley Eby, Lev Ivanov, Brianne Falatovich, Adam Bobak, Morgan Glass
View photos from the 2021 Cancer Institute Summer Research Program. 
Aryon Marshall
I selected this summer experience because I have been interested in the field of cancer research for several years now. My younger brother was diagnosed with a synovial sarcoma in his jaw in August 2018, and ever since then I have found an increased interest in the field, and thus wanted to find an experience that would allow me to pursue my interests. This program seemed like the perfect opportunity for me to conduct cancer research, while also staying close to home.
One thing that I learned that will help me in the next step of my studies is the different interferon regulating pathways. As an immunology and medical microbiology major, we are constantly talking about interferons and cytokines and how they work in conjugation to help the immune response. Despite having taken a few immunology classes prior to this experience, I was not aware of all of the different pathways involved. I had never heard of the NFK-B pathway nor the IRF-3 pathway of interferon induction, so this experience taught me about them, and gave me an in-depth understanding of the mechanisms underlying that.
I plan on attending medical school in the future to become a pediatric oncologist. During this time, I want to be able to keep up with cancer research as well as hopefully conduct my own in conjugation with other researchers.

My perspective on how scientific research is conducted changed over the course of this experience by giving me a greater appreciation of what all goes into it. I had worked in a research laboratory before in the biology department, however it was not nearly as in depth as this experience. This experience allowed me to see a different side of things - what goes on behind the scenes of running experiments. I knew that it took a large amount of preparation to get experiments ready, however I was unaware of all of the extra steps that we had to take such as keeping a liquid nitrogen store, maintaining cell lines, diluting and preparing primers, and so much more. While I knew all of these things had to happen, I didn't really think about how much time that actually took. It changed my perspective by giving me a greater appreciation for all of the behind the scenes work that must go on in order for research to be conducted.
Brianne Falatovich
I selected this summer research experience for the opportunity to work at a larger research institution, and to explore research in biochemistry and cancer cell biology. I also wanted to have the opportunity to live in a bigger town for a short period of time. Working at WVU-CI was an opportunity that I could not pass up.
One thing that I have learned that will most definitely help me in my next step in my studies is being thorough and not overlooking any details!
definitely have a newfound respect for scientific research and the massive efforts that go into it. I also have gained a perspective on all of the work that goes on behind the wet-lab work, such as planning experiments, ordering reagents, compiling data, reading papers, etc.; it has really made me appreciate the challenges and rewards that come with research.
Morgan Glass
I chose to apply to and accept this summer experience because I believed it would give me a great opportunity to continue work within my lab, and I was excited to get to have a full-time experience without having to juggle classes. Working in the lab every day allowed me to grow as an independent researcher and have a better idea about what a career in science would look like.
I feel like I have grown a lot in my science presentation skills with each of our presentations and the creation of my final poster presentation. I feel I have gained a solid understanding of my research that I can communicate at multiple levels of understanding.
I plan to continue research in the Lockman lab for my senior year here at WVU. I also plan to apply to a post-bacc fellowship at the National Institutes of Health and hopefully be involved in that program for the year following my graduation. In the future, I plan to pursue a career in cancer research beginning with a PhD program education.
This summer internship has showed me just how collaborative science can be, and how beneficial working with others, even in different labs, can be. The experience also outlined how prevalent, but necessary, failure is in science. Science is always trial and error, but generally the successes are worth the failures.
Ashley Eby
I selected the Cancer Institute Summer Research Program because I wanted a research experience that provided the resources, support, and flexibility for me to design my own project and pursue the scientific questions that interested me. The length of the program and expectations of participants ensured that I could dive deep into my project, as well as improve my scientific communication and laboratory skills.
The most beneficial lesson I learned is that resilience is essential for successful researchers. I faced challenges constantly throughout the research experience, which meant that I had to adapt and develop creative solutions to achieve my goals. By embracing the challenges I faced as opportunities to better understand my project, I was able to find solutions, gain valuable knowledge, and become a more resilient researcher.
I hope to attend medical school and eventually pursue a career as a physician-scientist in West Virginia.
This internship opened my eyes to how involved and rigorous the research process is. In order to get publishable data, there are so many steps that must be taken to optimize the experiment, see if that data is reproducible, and analyze the results to show significance. It could take months from the time the experiment is designed to satisfy these requirements and ensure the results are ready for publication. By going through these steps, I have a much greater respect for the scientific process and the quality of data that gets published.
Caitlin Cowell
I was very excited about the work the WVU Cancer Institute was doing. As a resident of WV, it is always so exciting seeing our state pioneering fields.
This was my first research experience. I learned so many skills and laboratory techniques that will be helpful as I prepare to write a senior thesis!
I hope to attend medical school and continue research in the future.
Adam Bobak
Prior to this summer research experience, I had loved the Morgantown area and the school in general. Going to a small, liberal arts college, I knew that I would be able to gain hands-on experience conducting research techniques and using machinery that I had only read about in my textbooks while at WVU for the summer. For me, I saw this as an opportunity to dive head-first into the world of research while learning more about cancer and the complexities associated with its treatment and progression.
I plan to become a physician in the field of pediatrics. Through my work this summer though, I have gained an immense appreciation and interest for oncology and plan to explore career options in this field as well.
This summer has truly opened my eyes to the complexities and frustrations that can be present in research. Research is crucial for all scientific discoveries, but making these discoveries requires an immense amount of time, resources, and trials. Though it can be frustrating, what I have learned through this summer research is that research can be extremely rewarding.
Lev Ivanov
I learned how to cohesively and effectively work in a lab and thus take advantage of the many sources of input and peoples' specialties in a research work environment.
I plan to continue to use this knowledge towards my quest of creating artificial lungs.
This summer internship allowed me realize just how much I enjoyed doing research in a lab, with a group of similarly motivated individuals, and with my own project. It also showed me just how much of research is done outside of the experiments themselves.