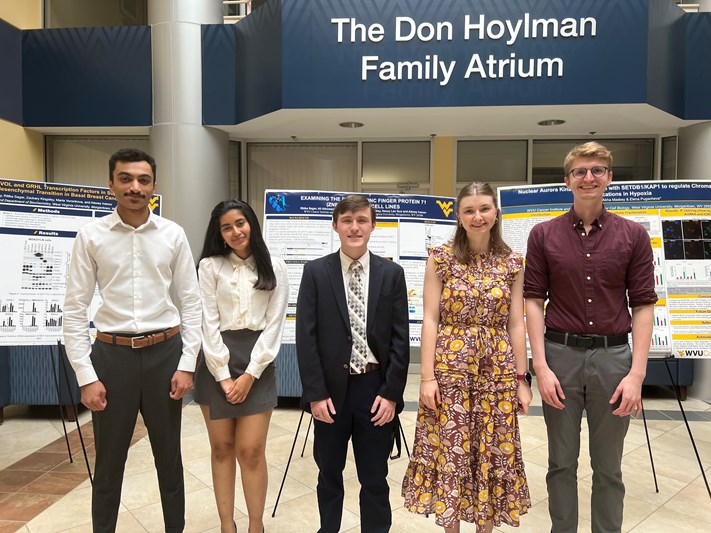 Picture - Left to right: Ali Albowaidey, Ritika Sagar, Alexander Pueschel, Hannah Smart, Cody Pasden
View photos from the 2022 Cancer Institute Summer Research Program. 
Read More about each student & their work.
Ali Albowaidey
I chose to be a part of the Cancer Institute Summer Research Program because of my interest in the field of cancer and my involvement with research. The program provided a great opportunity to work full-time and be fully immersed in a research project without having to worry about classes.
My project involved understanding the cooperation between OVOL and GRHL transcription factors in the suppression of epithelial to mesenchymal transition (EMT) in basal breast cancer cells.

By the end of the research program, our findings included the following: OVOLs and GRHLs are potent suppressors of EMT in mesenchymal MDA231LN cells. VGLL1 and miR205HG are highly responsive GRHL target genes. Knockout of GRHL1 or GRHL2 resulted in the downregulation of some GRHL target genes, however, knockout of a single MET transcription factor was insufficient to induce EMT in MDA157 cells.

One thing I learned from this experience is to always stay resilient no matter the challenges that may arise and to simply enjoy the process.
In the future, I plan on attending medical school while staying involved with research.
This summer internship taught me to appreciate the amount of time and resources that go into research. A lot of times an idea or a question may seem simple enough to answer, however, it requires a great amount of preparation behind the scenes.
Ritika Sagar
I selected this research program to gain a greater understanding of oncology and various cancer treatments, as well as contribute to the growing field of study. In addition, I had heard peers rave about how WVU is one of the best research institutions and I wanted to begin my preliminary research experience in the company of highly esteemed scientists.
My project was about the role of the different ZNF71-KRAB isoforms in non-small cell lung cancer.
Through this project, we wished to study the impact of ZNF71 isoforms on immune infiltration through interferon pathway genes. We hypothesized that overexpression of the KRAB-less isoform and knockdown of the KRAB isoform would alter the expression of interferon pathway genes. After plating the Beas2B, H358 and H441 cells and infecting them with lentiviral vectors to induce overexpression and knockdown, we found that overexpression of the ZNF71-KRAB led to suppression of IFN pathway genes.
Over the summer, I worked closely with Dr. Alexey Ivanov and Dr. Lan Guo. Under their guidance, I was able to learn wet lab skills the likes of running gels, performing extractions, qPCR and more. In addition, I also improved my presentation skills during lab meetings and worked collaboratively with other members of the lab.
I learned that every research finding only poses more questions; the nuances between different cancer types are ever-growing and it is so exciting to be able to tackle them one by one as a team. I am confident that the professional as well as interpersonal skills I have gained during this internship will help me in all future ventures.
In the future, I intend to get into medical school and learn more about pediatric oncology while contributing to the research.
In research, it is crucial to stay patient and get creative. You should not be disappointed with inconclusive results, every setback only brings you closer to finally making sense of the bigger picture.
Alexander Pueschel
I selected this summer experience since I saw it as a great to continue existing research. Also, cancer research is one of my many research interests aside from tissue engineering.
My project was to further our lab's repertoire with microfluidic tumor models (MTMs) so that we can use them as a high throughput testbed for our in-house-made NEMO particles. We plan to use these MTMs to test NEMO particles within MRIs but the devices do not stay alive long in the MRI bore environment. Aside from furthering our techniques with MTMs, the rest of my project was to design a device which can sustain MTMs within MRIs for an extended period of time.
I found out that the engineering type problems of a biomedical engineer can be just as or more challenging as the biological problems when there are so many impinging constraints.
During this summer, I greatly expanded my understanding of cell culture due to my project requiring me to recapitulate the cell culture environment within an MRI's bore. Moving forward this should help me continue to develop better devices to maintain the tumor microenvironment.
In the future, I plan to pursue a master's degree as a minimum in biomedical engineering, bioengineering, or tissue engineering. Upon finishing graduate school, I would like to go into industry and work as a tissue engineer.
Hannah Smart
I chose this summer experience because I wanted firsthand experience in a research lab while researching something that I was passionate about and interested in.

My project was about looking at nuclear aurora kinase A and its interaction with the SETDB1/KAP1 complex in regards to chromatin modification regulations under hypoxic conditions.

I learned that chromatin bound SETDB1 and KAP1 showed an increase in NLS-AURKA cells under hypoxia and correlates with active chromatin markers H3K9Ac and H3K4me3 trending lower, suggesting repression of gene transcription. However, this was not true for normoxic conditions and implies an alternative mechanism. Moreover, further investigation on repressive chromatin markers needs to be done in order to fully validate our hypothesis that nuclear AURKA binds to KAP1/SETDB1 complex to repress gene transcription under hypoxic conditions.

I was fortunate enough to work in Elena Pugacheva's lab over the summer. I worked closely alongside the lovely Abha Maskey and met incredible hard workers and scientists such as Sila Yanardag and Marc Purazo.

One thing I learned is from this experience is resilience. Unfortunately, experiments fail and you have to start over and continue to try again. 

I learned that there are no shortcuts when it comes to science. Science is slow, and takes a lot of time and thought, but it is a rewarding experience when experiments finally start to work and make sense.

In the future, I would love to pursue an MD in internal medicine or oncology.
Cody Pasden
I wanted firsthand experience in the field of cancer research, and I knew that I would have an enriching summer with the Cancer Institute Internship at WVU's Health Sciences Center!
My project focused on the cyclic peptide MTI-101 in the activation of Frizzled-2 receptors leading to calcium flux and cell necrosis.
Frizzled-2 was originally thought to be a binding partner of MTI-101. With western blot analysis, it was determined that Frizzled-2 may not be a binding partner; however, there were other specific Frizzled receptors that were thought to be binding partners aside from Frizzled-2.
I had the pleasure of working in the lab of Dr. Lori Hazlehurst! In my time, I met with a plethora of PhD students that aided tremendously in what it would mean to be a research scientist. Along the way I made lasting connections with fellow undergraduate students from WVU, Bethany College, and Marshall University!
The importance of analyzing data and how that forms a bigger picture in understanding a certain process or answering a question!
I would like to pursue a PhD in Pharmaceutical Sciences or related fields!
I learned that research can be very hard at times and can have minor setbacks, but in the end is very rewarding when finding an answer to a question!
I thought the internship was an amazing opportunity and was very grateful for the lab I was assigned. I do however wish the summer internship would have been a little longer!