Student Research Highlights
Congratulations to Ogaga Urhie on his multiple publications
Ogaga recently had two papers accepted for publication that bridge his research between two programs at the WVU Health Sciences Center.  The first paper is titled "A Novel Method for Training Mice in Visuo-Tactile 3-D Object Discrimination and Recognition" which will be published in Frontiers in Behavioral Neuroscience.  The second paper is titled "Utility of Sodium Fluorescein for Achieving Resection Targets in Glioblastoma: Increased Gross or Near Total Resections and Prolonged Survival" which will be published in Journal of Neurosurgery.  Ogaga's research focus is to understand which factors have affected patient's survival given health disparities in the state and is taking a close look at the outcomes for patients in WV under differing regimens to treat glioblastoma.  "The larger picture is to identify factors that influence the decision making and treatment adherence of our patients with glioblastoma as a way to enhance treatment planning with these patients" Ogaga explains. 
Ogaga is a medical student who completed the MS1 INTRO Summer Research Program in 2016 with research in Neurosurgery. He also recently completed his Master's degree in Clinical and Translational Science.  He has been able to bridge his research interests across the MS1 INTRO Program and the Clinical and Translational Science Master's program. 

Hannah Wilson presented her research at cancer research conference
Hannah Wilson, an MD/PhD student in the Cancer Cell Biology graduate program, attended the 4th Cancer Cachexia Conference in Philadelphia with her research advisor, Dr. Ed Pistilli.
Hannah originally submitted her research for a poster session but after a committee review, she received an invitation to present her data as an oral presentation-part of a special session on "Analysis of Big Data".  Her talk was titled "Dysregulation of peroxisome proliferator-activated receptor signaling is mechanistically central to breast cancer-induced skeletal muscle fatigue". 
Her research focuses on one specific signaling pathway that may one day alleviate breast cancer-induced muscle fatigue. Patient care and quality of life was an emphasis at the conference which Hannah found encouraging.
"It was wonderful to be among a group of highly intelligent individuals who so genuinely care about the people impacted by their work," Wilson said.
http://cancercachexiasociety.org/html/program.html

Joseph Hare presented his research national conference
Joseph Hare, a second year medical student began his research project on the efficacy of antibiotic antimicrobial agents against S. aureus under Dr. Bingyun Li last year as part of the MS1 INTRO Summer Research program. The objective of this study was to determine the efficacy of common antibiotics and nontraditional antimicrobial agents against S. aureus biofilms grown on cobalt chrome discs, a material used in many orthopedic implants. Throughout the year, Joseph continued to work on his research and gained the opportunity to present at the Orthopedic Research Society (ORS) National Annual Conference in New Orleans this past month. He is also a Van Liere Research Scholar.
Congratulations Joseph!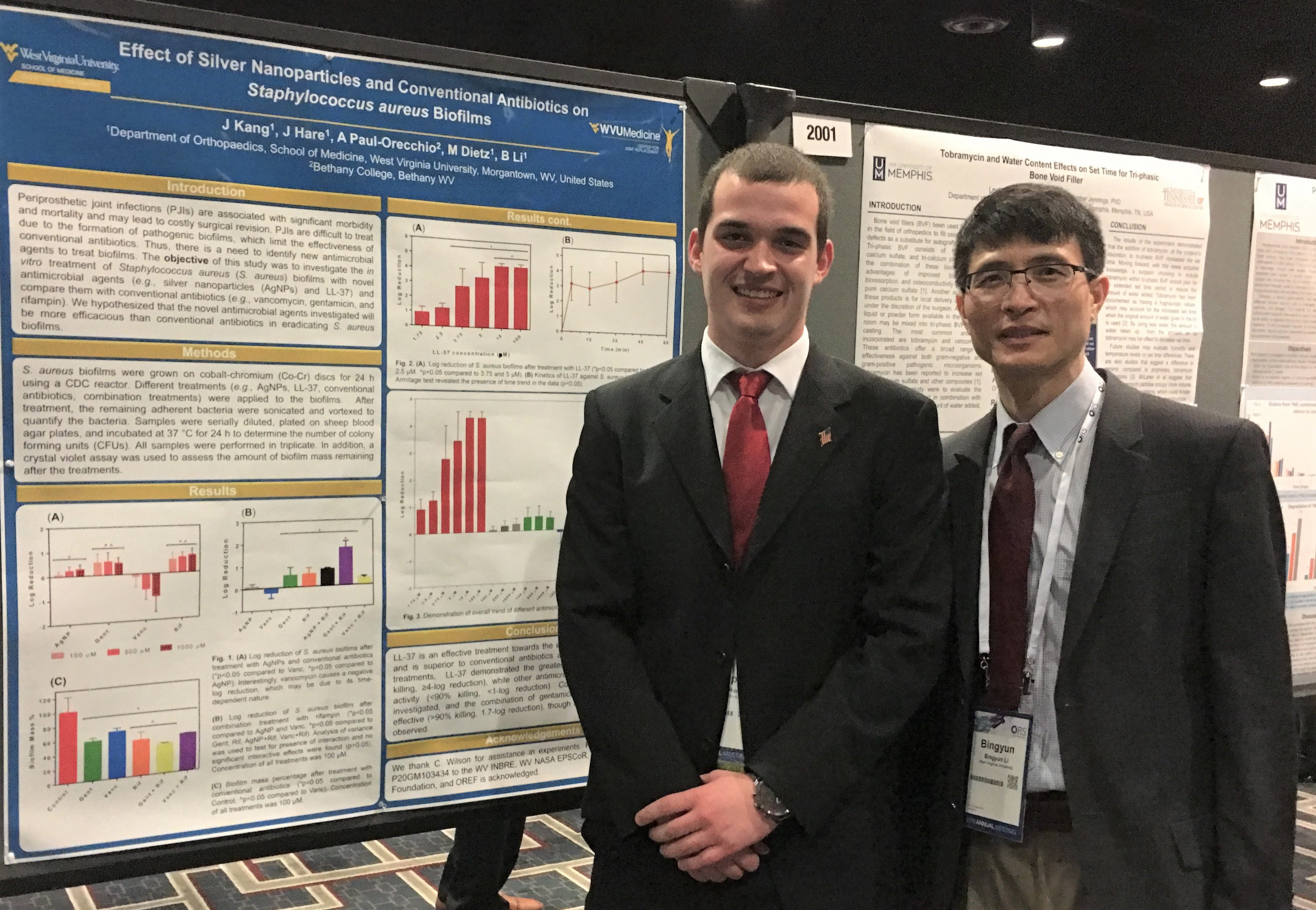 Ashley Russell, a graduate student in Neuroscience, was invited to present her research at the International Society for Extracellular Vesicles
Ashley Russell, a fifth year PhD student in the Neuroscience Program, received an invitation to present her research at the International Society for Extracellular Vesicles (ISEV) in Baltimore, Maryland on March 23, 2018.
The purpose of the workshop is to bring together scientists and discuss some of the major obstacles within the Extracellular Vesicles (EV) field.  The field is relatively new and therefore a small number of participants were selected and the session will foster interactions between the attendees and work towards standardizing protocols for investigating and furthering our understanding of EVs.  She will then be co-chairing the first presentation section titled "Extracellular Vesicle Release".  The workshop will be a combination of presentations given by some of the top EV researchers, as well as round table discussions among the participants.
There will be a diverse group of experts from the United Kingdom, France, Belgium, Italy, Ireland, Germany, Sweden, India, Israel and more to discuss the specific areas of EV research and bring their knowledge to the table. Ashley is very excited to be a part of this conversation.
Ashley is in Dr. James Simpkins lab with her research focusing on understanding the role of exosomes in neuroinflammatory/neurodegenerative diseases. 
After graduate school, Ashley plans to seek a Postdoctoral Researcher position within the extracellular vesicle field.  She would love to continue to work on understanding how exosomes influence the brain, whether that be in neurodegenerative diseases, normal brain physiology or development.  She would also love the opportunity to teach at a medical school with hands-on courses in neurobiology and anatomy.
According to Ashley, the most fulfilling part of her research is presenting it.  She loves to talk about exosomes with anyone who will listen, and enjoys listening to presentations from a diverse range of scientists.
"Everyone can be involved in this relatively new and extremely exciting field in some capacity and I love sharing that with other scientists," states Ashley.
Congratulations and we wish you the best of luck on your presentation!

Jessica Povroznik was invited to present her research at a regional conference where she won first place for her poster presentation
Jessica Povroznik, a lab technician in the Rodent Behavior Core was invited to present her research at the Three Rivers Branch of the American Association for Laboratory Animal Science (TRBAALAS) regional meeting in Pittsburgh on November 16, 2017.  Jessica was awarded first place for her poster presentation.
Jessica presented her data from her first author paper, Locomotor Effects of a Low-Frequency Fire Alarm on C57Bl/6 Male Mice, which was published as a short report in "Laboratory Animals Limited".  Jessica, along with her collaborators, focused the study on maintaining appropriate conditions for animal welfare in biomedical research facilities, primarily focusing on the disruptive sounds of fire alarms and how quickly animals behavioral recovered from each experience, if at all.  She presented alternative technologies that may be utilized to reduce negative outcomes in locomotor behavior among laboratory animals caused by excessive fire alarms in particular technologies that generate a sound frequency that is out of the audible range of mice. 
Congratulations Jessica!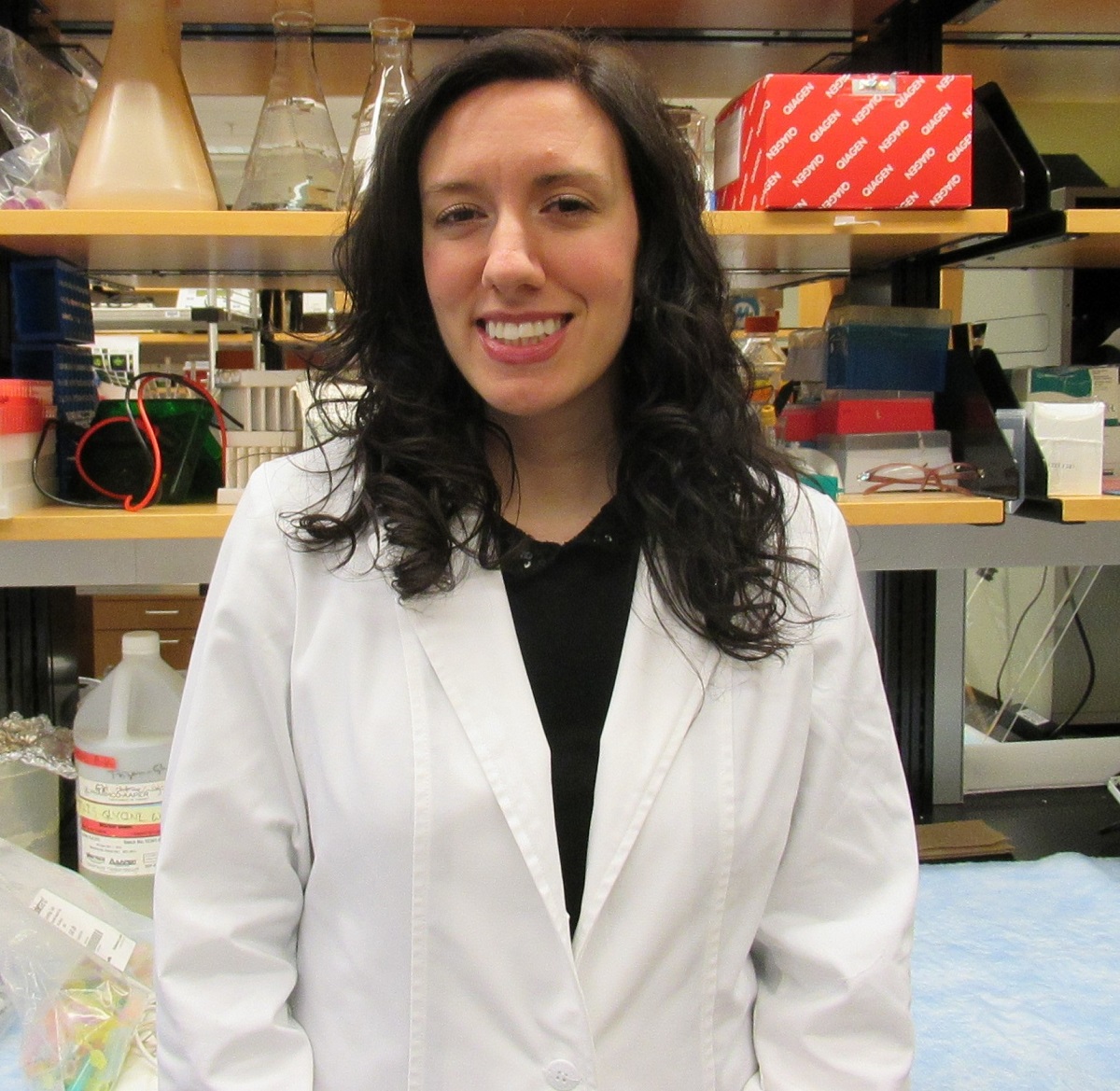 Masters in Health Sciences alumnus presented two posters at the 2017 Association of University Centers on Disabilities Conference in Washington, D.C.
Magda Rivera-Dillon, a recent graduate of the Master in Health Sciences Program recently presented two posters at the 2017 Association of University Centers on Disabilities Conference in Washington D.C., on November 6, 2017. 
 Magda facilitated the Diversity Fellowship Poster Symposium and presented a poster on her Diversity and Disability Fellowship capstone project. She also co-presented the WVU CED Center of Excellence in Disabilities Diversity and Inclusion Committee poster at the Cultural & Ethnic Diversity and Linguistic Competency Poster Symposium.
Magda graduated from the MS in Health Sciences Program and the Leadership Education in Neurodevelopmental Disabilities and Diversity & Disability Fellowship Programs in May 2017 with an Interdisciplinary Graduate Certificate in Disabilities Studies. Magda is working as a Research Assistant at the WVU Injury Control Research Center through the WVU School of Public Health. She is currently completing a Graduate Certificate in Applied Behavior Analysis at WVU. She continues to support the Living in Good Health Together program and leads the syringe exchange activity during Friday clinic. She received Recovery Coach and SMART Recovery training to help support recovery efforts.
 Well done, Magda!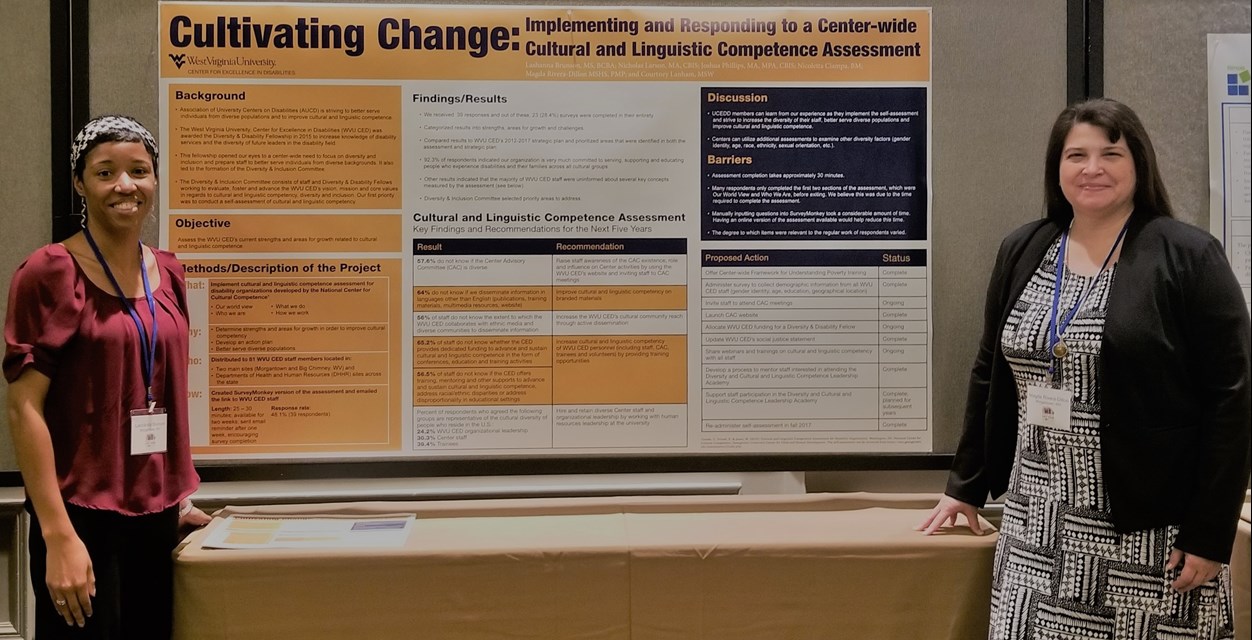 To the right: Magda Rivera-Dillon
Students from the WVU Health Services and Outcomes Research take home multiple awards. 
The International Society for Pharmacoeconomics and Outcomes Research (ISPOR) held its 22nd Annual Meeting where 10 WVU Health Services and Outcomes Research PhD students presented their work and won multiple awards. 

The WVU ISPOR chapter won second place in the highly competitive Student Research Competition taking home $600 inawards.  The participants were: Mr. Jayesh Patel, Ms. Pragya Rai, Ms. Drishti Shah, and Ms. Xiaohui (Mary) Zhao.   The ISPOR student chapter advisor is Dr. Usha Sambamoorthi.
Rashmi Goyat (Co-advisors:  Suresh Madhavan and Xi Tan), Pragya Rai (Advisor: Xi Tan), Drishti Shah (Advisor:  Usha Sambamoorthi), and Xiaohui (Mary) Zhao (Advisor: Usha Sambamoorthi), also received travel funding ($1,500 each) from the ISPOR.  The travel funding was provided to attend the popular short courses in HEOR including three new courses: US Payers – an Introduction to Their Structures, Evidence Needs, and Decision-Making Process, Collecting Health-State Utility Estimates for Economic Models in Clinical Studies, and Using Dynamic Simulation Models for Decision Making in Health Care Delivery.
Raul Garg won the best podium presentation for his dissertation work on "Impact of Diffuse Large B-Cell Lymphoma on Visits to Different Provider Specialties among Elderly Medicare Beneficiaries: Challenges for Care Coordination."     His advisor is Dr. Kimberly Kelly.
Abdulkarim Meraya's poster presentation on "The Dynamic relationships between Economic Indicators and Physical Health Measures among Working-Age Adults in the United States." received Finalist Award.   His co-advisors are Drs. Nilanjana Dwibedi and Usha Sambamoorthi.
Drishti Shah's (Primary Author) poster presentation "Healthcare expenditures and patterns of opioid use for non-cancer pain" received the Finalist Award.   Her advisor is Dr. Usha Sambamoorthi.
Xiaohui (Mary) Zhao's (Primary Author) presentation on "Incremental Healthcare Expenditure of Anxiety Disorders among US adults with Arthritis" received Finalist Award. Her advisor is Dr. Usha Sambamoorthi.
Pictured from L to R are Chibuzo Iloabuchi, Xiaohui Zhao, Pragya Rai, Drishti Shah and Jayesh Patel.
Congratulations on all of your awards!
Research presented at national conference by Van Liere Research Society Members
Derek Andreini and Anthony Machi, two members of the first class of the Van Liere Research Society presented along with their colleague, Brock Karolcik, at the 2017 American Academy of Orthopedic Surgeons. The conference drew over 30,000 participants in total, including Academy Fellows, members, international guests, allied health professionals, and exhibitors.
Both Derek and Anthony were selected to participate in the MS1 INTRO Summer Research Program during the summer of 2016 working under Dr. Matthew Deitz and Dr. Bingyun Li in the Department of Orthopedics at WVU.  Derek presented a poster titled "Comparison of Outcomes in End Stage Knee Arthroplasty Cases: Megaprosthesis versus Knee Arthrodesis" at the conference.  "The conference was an absolute blast.  It was interesting to see the evolution of orthopedics first hand and all of the technological advances," noted Derek.  Brock, a fellow MS3, presented his research at the poster session, titled "Topical Adjuvants Decrease Staphylococcus aureus Biofilm on Orthopedic Metals: But is it Enough?"  Brock enjoyed the opportunity to extend his understanding of technology through research collaboration from scientists from all over the world. 
"I was thoroughly impressed by the conference. There were orthopedic surgeons from all over the world. Just at our poster session alone there were posters from China, South Korea, Hong Kong, and many more along with various prestigious academic institutions throughout the US."   Brock Karolchik
Dr. Dietz was pleased with their accomplishments and added that he was "very happy to have them attend the meeting.  They did great work this summer," he said. 
Congratulations Anthony, Derek and Brock! 
*Funding for conference travel provided by the Office for Medical Education and the Office of Research and Graduate Education.


Katherine Bolyard, Master in Health Sciences student wins award
Katherine Bolyard, a student in the Master in Health Sciences Program, received the 2017 Kenneth D. Gray Award for Outstanding Student Leader in April.  This leadership award is given only once a year.  "Named in honor of the retired WVU Vice President of Student Life, the award is designed to recognize exemplary leadership on behalf of the students at WVU. This award is one of WVU's most prestigious student honors and spotlights those who demonstrate problem-solving and consensus building; commitment to the Division of Student Life and student programs; fosters collaborative and critical-thinking; a strong, positive influence with other students; pursues and achieves high academic standards; and inspires, through example, for others to act with integrity and high professional standards." 
Katherine's mentor is Dr. Linda Vona-Davis.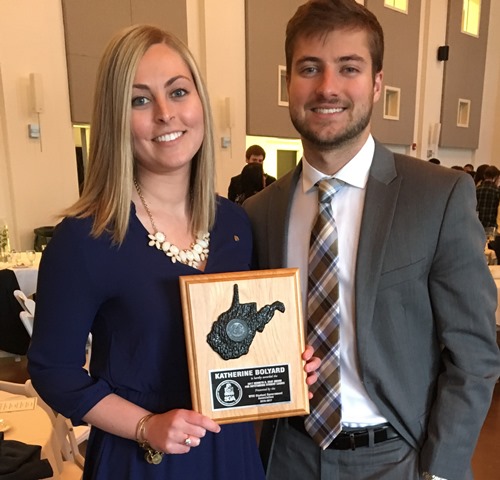 Congratulations Katherine!
Tyler Overholt, an EJ Van Liere Research Society member, presented at a national meeting
Tyler Overholt, a second year medical student here at West Virginia University, recently presented a poster at the American Urological Association (AUA) annual meeting in Boston.  Tyler participated in the Initiation to Research Opportunities (INTRO) Summer Research in 2016 and this presentation was the outcome of her work in the program. She was also inducted into to EJ Van Liere Research Society after the successful completion of the INTRO program. The AUA is the biggest international urological conference worldwide with more than 12000 urologists and over 16000 attendees total are attending this year from all over the world. The presentation entitled "FEMALE SEXUAL DYSFUNCTION: A WEST VIRGINIA UNIVERSITY CLINICAL EXPERIENCE" was also authored by Dale Riggs, Barbara Jackson, Alex Battin, Henry Fooks MD, Mohammad Salkini MD, Adam Luchey MD, Stanley Kandzari MD, and Stanley Zaslau MD.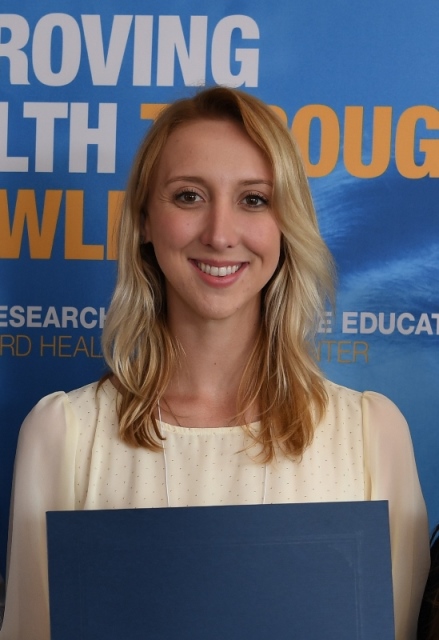 Congratulations to our five MD/PhD graduates on Match Day
On March 22, 2017, Match Day was a busy day for our MD/PhD Graduates.  Two matched in Radiation Oncology, and one each for Family Medicine, General Surgery and Child Neurology.
From L to R: Daniel Vanderbilt, Courtney Pilkerton, Sriganesh Sharma, Linda Nguyen, and March Farrugia.


Meet Kristina Marinak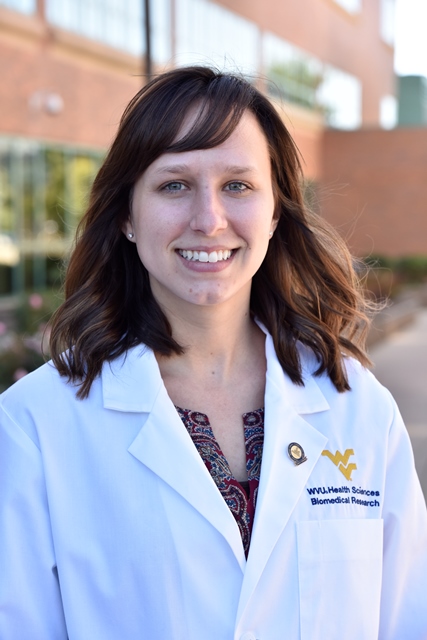 Graduate student in Dr. Elena Pugacheva's Lab
Kristina Marinak is a shining example of leadership during her career in graduate school.  She is currently a graduate student in Dr. Elena Pugachevas's lab in the WVU Cancer Institute.  Her research is focused on Aurora-A Kinase, a mitotic kinase and well characterized proto-oncogene that normally localizes in the cytoplasm at the centrosomes and is crucial for chromosome separation and spindle formation.  Aurora-A is often overexpressed in various cancers including breast cancer.  Her lab discovered that Aurora-A localizes to the nucleus, specifically in cancer metastasis and it is enriched in the metastases of triple negative breast cancer (TNBC) – a particularly challenging type of malignancy.  The objective of the Pugacheva team is to define the role and targets of nuclear Aurora-A in TNBC metastasis in an effort to develop novel therapeutics. 
During the summer of 2016 Kristina served on the Metastasis Research Society's Early Career Leadership Council.  This council consists of postdoctoral researchers and graduate students with goals that include organizing webinars, networking and professional development opportunities and hosting a satellite meeting for young investigators.  As part of her position on the Early Career Leadership Council she was invited to attend the international conference in China this past September.  "This was a big deal for me personally and scientifically" said Kristina. The trip represented her first opportunity to travel outside of the US where she represented WVU in this exciting capacity.  She presented a poster describing her study entitled "The role of nuclear Aurora-A Kinase in Triple Negative Breast Cancer Metastasis" and networked with numerous other young scientists.  She thanks her mentor, Dr. Elena Pugacheva, for encouraging her to apply for this council position and for giving her continuous support.  Kristina credits Dr. Pugacheva with "constantly thinking about our future careers and what would benefit us now. She encourages us to apply for awards, funding opportunities, conferences and any leadership positions she thinks will benefit us."
Kristina's future goal that she feels most strongly about is being able to contribute to the community.  She says "being in the cancer research field gives the satisfaction that we are trying to make a difference in people's lives". Kristina notes the importance of being involved in opportunities to increase awareness of understanding metastatic disease and its consequences, especially in areas with significant health disparities.  She hopes to decipher the process of tumor metastasis and to develop novel therapeutics followed by preclinical and clinical evaluation. 
Keep up the good work Kristina!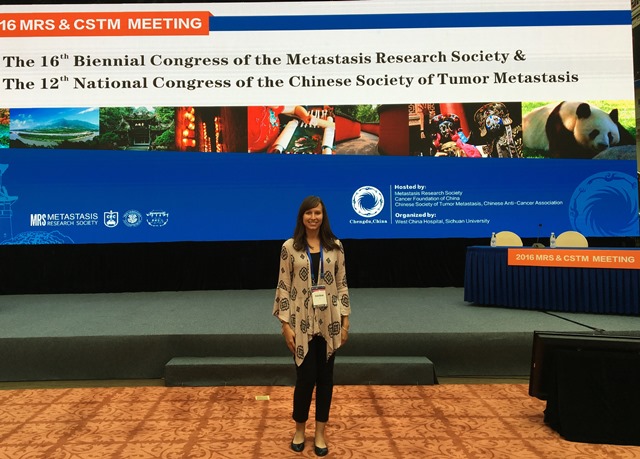 Congratulations Magda Rivera-Dillon

Magda is currently a graduate student in the Masters of Science in Health Sciences program.  She is performing her Independent Study work with an Autism Support Group for teens with high functioning autism through the Leadership Education in Neurodevelopmental disabilities (LEND) grant and the WVU Center for Excellence in Disabilities (CED).  Magda is pursuing her Masters of Science in the Health Sciences program to gain a solid foundation to help move forward in her graduate study.  After her Masters, she plans to go into Medical School, or possibly going into a Physician Assistant program. 
Dual recognition came when she was certified in the LEND (Leadership Education in Neurodevelopmental Disabilities) program. The LEND initiative is a national level training program to develop future leaders in the Health care fields using mentors and focusing on cultural awareness, clinical experience, and particularly autism support mechanisms.  She also accepted a fellowship in the Diversity and Disabilities Fellowship program.  This program is a new, national level fellowship mechanism that was created by the WVU CED (Centers for Excellence in Disabilities) in January of 2016.  Currently, there are 28 fellows nationwide who work to increase knowledge of disability services and support while increasing the diversity of leadership across multiple fields.  It's the synergy and collaboration of both programs that Magda enjoys the most.
Magda was previously a mechanical engineer in a federal program for 20 years. She began a career transition and states that this has been the perfect opportunity for career transition.  To begin, she volunteered at Monongalia General Hospital and earned her LPN degree.  This sparked her interest further and she began to expand her knowledge and training in the Health Sciences.   It was a perfect fit especially for someone with a diverse background to transition to a health sciences career. 
In her spare time she enjoys supporting the LIGHT program.  This program offers free supply kits with syringes to those with need while addressing a public health concern of re-use of needles while preventing transmission of Hepatitis C and HIV.  She also helps in counseling, offering  referrals into treatment, helping those  applying for Medicare, addition services, and getting those in need on to the right path for a better, healthier future. 
Congratulations Magda!
Congratulations Audrey Jajosky
Audrey Jajosky recently graduated in May with the MD/PhD degree and has accepted a post-doctoral fellowship at Oregon Health and Sciences University, Portland.  She will be working in the lab of Dr. Bernie Fox for two years before beginning her residency training.  Dr. Fox is an outstanding anti-melanoma immune-cell engineer affiliated with OHSU and the Earle A. Chiles Cancer Research Institute.  Audrey says, "finding the perfect mentor was challenging and that she is extremely optimistic that anti-melanoma immunotherapies will save the lives of patients with even highly evolved metastatic disease. And that she is grateful for the support that she has received.  Mountaineers go first!"   Audrey received her research training with the Cancer Cell Biology Graduate Program in the Health Sciences Center.  Her mentor was Dr. Laura Gibson.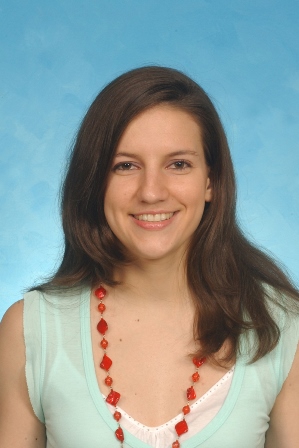 Congratulations Evan DeVallance
Evan DeVallance, a Graduate student in Exercise Physiology in the Biomedical Sciences Program, was recently awarded a pre-doctoral fellowship from the American Heart Association for his project titled "Effect of MetS on PVAT and its regulation of nitric oxide and aortic reactivity".  The priority score on his proposal was 1.59 which is considered excellent. 
Evan's mentor is Dr. Paul Chantler.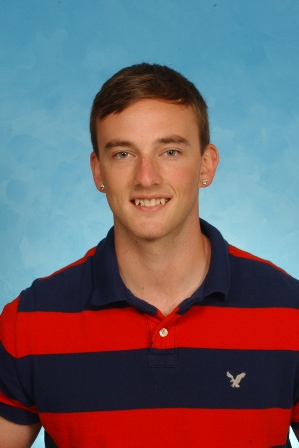 Congratulations Evan!
Fantastic work from Health Outcomes Research Graduate Students at WVU
Parul Agarwal won the best podium presentation award for her paper, "Health Care Expenditures Associated with Persistent Emergency Department Use: A Multi-state Analysis of Medicaid Beneficiaries," with Co-authors Tom Bias and Usha Sambamoorthi.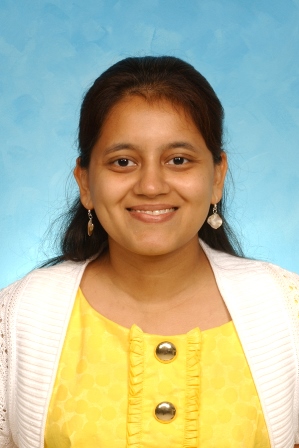 In addition, Ebtihag Alenzi was a poster award finalist.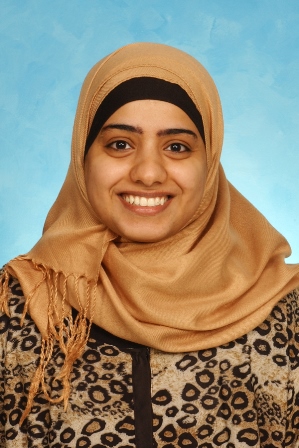 A total of 80 podium presentations and about 600 posters were presented.  Our students and faculty had a total of nine presentations at the meeting. Three best paper awards were given for podium presentations.  The meeting was attended by about 3600 members from all over the world and consisted of academic, industry, and clinical research organization researchers.  
 
The WVU ISPOR Student Chapter received the Outstanding Student Chapter Award out of some 50+ US and 40+ international graduate student chapters. The ISPOR chapter application was developed by Doug Thornton, Chapter President and his team of officers, and advised by Dr. Usha Sambamoorthi.
 
Doug Thornton also received a Distinguished Service Award for service to the Society.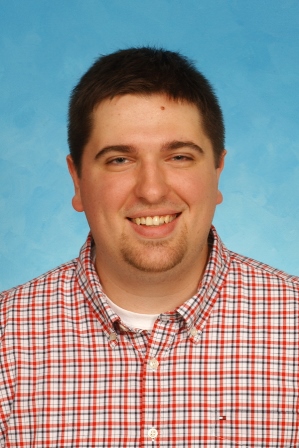 Congratulations and keep up the good work!
Meet Bryan Gall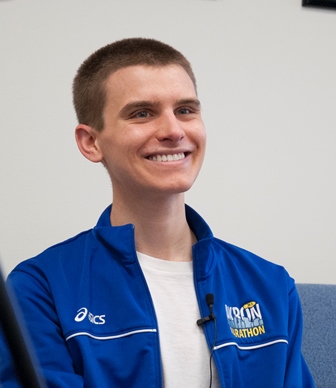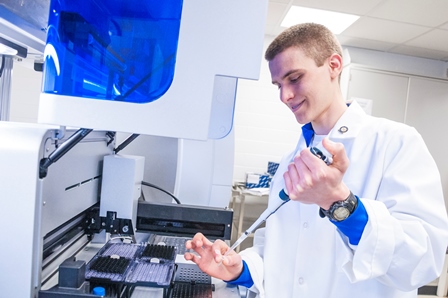 Bryan Gall
Lab of David Siderovski, PhD
Physiology and Pharmacology
Bryan just successfully passed his dissertation defense last month and will stay with WVU until this summer.  The last year of his graduate school career was certainly a whirlwind.  He was recently invited to present his work to the upcoming ASPET (American Society for Pharmacology and Experimental Therapeutics) Translational & Clinical Pharmacology Executive Board meeting as an ideal example of programmatic success.  
His research was recently published in the NATURE group journal Genes & Immunity.  He also recently won first place in ASPET's Young Investigator Platform Session for his oral presentation. 
Bryan's research focuses on understanding the role that a protein called "G protein signaling modulator 3" (GPSM3) plays in the development of Rheumatoid Arthritis (RA). In particular he is focused on why mice without this protein, and humans with mutations in this protein appear to be protected from arthritis. Bryan explains "we know this protein is involved in the recruitment of inflammatory cells to tissues in RA, and loss of this protein prevents this recruitment. However, the reason this mutation in humans is protective was not fully understood. We are the first to show that mutations in a protein called G protein signaling modulator 3 (GPSM3) decrease the amount of its expression in inflammatory white blood cells." 
David Siderovski, Bryan's advisor, explains the significance of his discovery:
"Bryan Gall has identified the reason why a particular gene mutation, seen in approximately 20% of the population, can protect someone from developing rheumatoid arthritis: this gene variation decreases production of a protein called GPSM3 that normally supports the movement of harmful white blood cells into joint tissue."
This breakthrough in the understanding of this protein could potentially lead to better therapeutic  targets and treatments for sufferers of RA.  With better treatments and medications to treat RA, the goal is to reduce the unwarranted, and sometimes unpleasant, side effects that these medications currently bring.
Bryan recently accepted a postdoctoral position at Oregon Health and Science University's Vaccine and Gene Therapy Institute where he hopes to transition his knowledge of inflammation into vaccine research. 
Outside of the lab, Bryan enjoys running, hiking and biking along with reading and cooking. 
Meet Tanya Dilan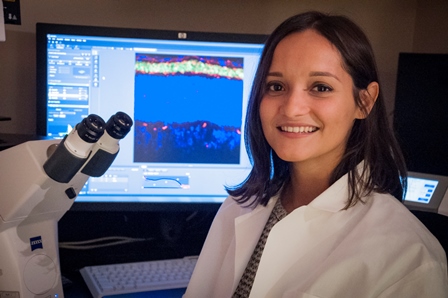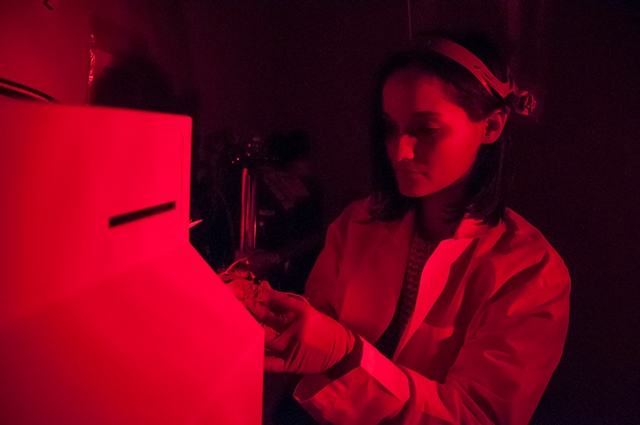 Tanya Dilan
Dr. Visvanathan Ramamurthy's Lab in the Ophthalmology Department
Biochemistry PhD Program
Tanya currently studies the retina which is a layer of tissue in the back of your eye that is involved in converting light into a neural signal.  The retina is comprised of compartmentalized "light-sensing" cells termed photoreceptors.  The outer segment of (OS) of these neurons is completely shed every 10 days therefore protein synthesis and protein transport to the OS are crucial for proper photoreceptor function.  She is studying the protein called Bardet-Biedl Syndrome -8.  It is a protein that is part of a larger multimeric complex called the BBSome.  The BBSome is thought to be involved in protein transport.  Mutations is Bbs8 lead to vision loss as well as a host of other symptoms such as renal problems, obesity and cognitive impairment. 
Her goal is to better understand the mechanistic role that Bbs8 plays in photoreceptor cell death.
Tanya is originally from Puerto Rica and she did her Bachelors in Industrial Microbiology at the University of Puerto Rico.  She would eventually like to help establish a small biotech/science incubator in Puerto Rico but first she needs to obtain the necessary scientific and business experience in order to accomplish her goals. 
In her spare time she likes to play guitar and recently got into playing bongos and harmonica.  "Harmonica is by far the hardest one to learn at the moment" says Dilan. 
Tanya just won a National Eye Institute travel award to attend the Association for Research in Vision and Ophthalmology (ARVO) national conference in May at which she is also presenting her research. 
Congratulations Tanya and keep up the good work!