Standardized Patient Program
Standardized Patients (SP) and Gynecological Teaching Associates (GTA) are members of our community. SPs are trained to portray patients in complex scenarios to provide experiences in communication, diagnosis, and physical examination skills. The objective of the GTA program is to teach learners how to conduct the breast and pelvic exam in a safe, comfortable, thorough, and respectful patient‐centered manner. Our SPs and GTAs make a difference in health care education with each encounter.
What is a Standardized Patient?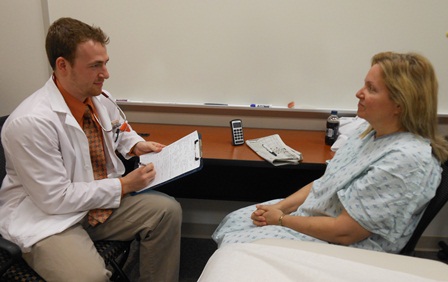 A Standardized Patient (SP) is a real person role-playing a real clinical situation to help medical students learn and/or evaluate clinical skills.
Standardized Patients are people from the community who have indicated an interest and are accepted based on their communication skills.
An SP must be able to:
Portray a patient case scenario
Observe the medical student's behavior
Recall the encounter and complete a checklist
Provide feedback to the student
Our SPs are a supportive group who enjoy what they do because they know it's important to both medical professionals and patients. SPs feel proud of their contribution to medical education.