Services
MDTV is a secured independent telehealth network delivering videoconferencing and telehealth outreach services to several facilities throughout the state of West Virginia.  Our staff works directly with WVU departments to assist them with their collaboration efforts across campuses as well as expanding and enhancing community outreach and education initiatives by utilizing various video conferencing technologies.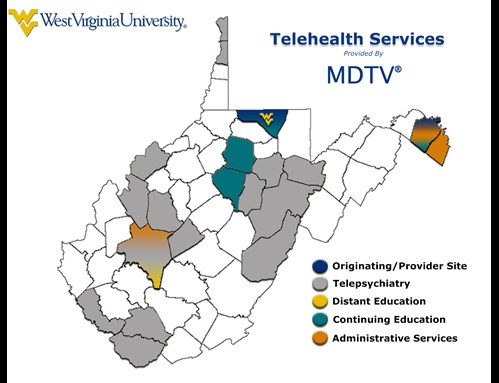 Administrative Videoconferencing

Interviews, Faculty & Staff Committee Meetings, and Depositions are just some examples of the administrative events you can schedule via MDTV.  Faculty, staff and students throughout the Robert C. Byrd Health Sciences Center utilize this service because it is convenient, and affordable.  Users are able to cut down on travel costs and time away from the office by holding their meeting via MDTV.  It is also a great way for West Virginia University's regional campus to stay connected.
Continuing Medical Education
Mountaineer Doctor Television currently broadcasts Weekly Continuing Medical Education Programs to various facilities around the state as well as some very local facilities such as University Town Center.  This service offering allows providers the opportunity to still participate and learn with their colleagues even when distance is a factor.
Participants can join remotely from their home/office computer or mobile device.  Some events are recorded as well so if you miss the actual conference but were interested in the topic, you can watch it when the time is right for you.
Special Events/Guest Lecturers
Mountaineer Doctor Television has the ability to Connect Guest Lecturers from Afar.  If you have a guest speaker that you would like to invite to your lecture but can't afford the cost of bringing them to Morgantown, MDTV can assist with coordinating a videoconference with your special guest speaker. 
Distance Education Courses
Mountaineer Doctor Television broadcasts course content for the WVU School of Pharmacy.  The instructors (typically located in Charleston WV) teach via MDTV to a room full of students located in Morgantown, WV.
Telepsychiatry
The Department of Behavioral Medicine and Psychiatry, in conjunction with WVU Mountaineer Doctor Television (MDTV), currently operates 32 telepsychiatry clinics throughout the state of West Virginia. These clinics provide child and adolescent, adult, and addiction related psychiatric services to clients in fifteen counties with extensive catchment areas extending past county borders. Addiction related services also include provision of much needed care to pregnant mothers.  Services have expanded to include the education of rural clinic providers and psychiatry residents.  Future plans for further expansion  include provision of services to nursing homes, rural schools and teletherapy which are all designed to minimize usage of limited patient and local resources and maximize treatment potential for the future. 
Interested in Learning More?  Contact Us Today: 304-293-6926 or mdtv@hsc.wvu.edu