February 2018 - Umbraco 7.6.6 Update

As far as we know, there are no known bugs related to the update. If you come across any, please let us know so we can add it to the Identified Bugs page, and work with Support to get it fixed (if possible).
User Interface (UI) Changes #
The interface has had a face lift with a new purple and green color scheme, a big change from the previous black and blue color scheme, as well as some spacing and font/text tweaks. Users will now be greeted with these colors on the new log-in screen, as well as in the menu bar and all other elements presented once logged in.
Icon Changes #

Though there have been a few minor icon changes, most icons are still in their same location. A few instances have been replaced with words ("Add" instead of a plus sign, etc.), but all interactions still feel intuitive. Most of the icon changes are for anything using an Archetype (Randomized Features, Profile Listings, Interactive Map, and more).
The  Sort icon has been darkened.
The  Publish and  Unpublish icons have changed from a power button icon to an eye icon.
The  Delete icon been thickened.
Because of the color palette change,  checkmarks are now green, rather than blue.
Link to Document Position Change #
Link to Document, often used by editors (and us) to preview or go to a page's live URL, has been moved from the bottom of the "Properties" tab, to the top. The function has not changed, it has only been moved for easier access.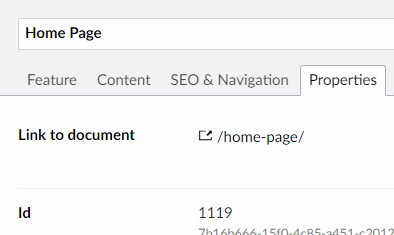 Functionality Changes #
URL Pickers #

URL Pickers have been visually expanded upon - you now have a gray background and action labels rather than action icons.
Rather than hovering on a URL and seeing the page type icon change to a  pencil icon for editing, you now click "Open". We wish this was labeled "Edit" instead, but unfortunately we are unable to change this.
Rather than a  red "x" icon for deleting, there is now a "Remove" label.
The old  sorting icon has disappeared, but the drag and drop functionality remains (along with the cursor change to  a four way arrow to indicate this to users).
Lastly, an "Add" label/button has been added to the bottom of the URL listing.
The Macro Listing #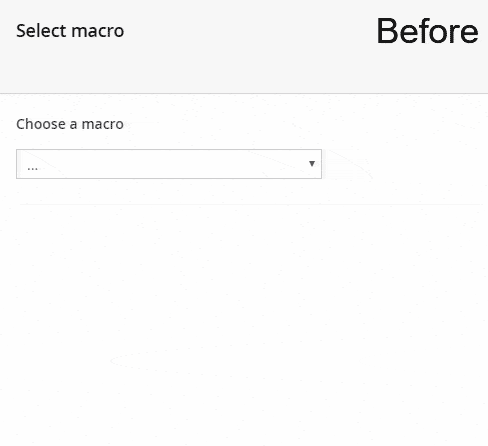 Another big change likely to catch users off guard is the new 

Insert Macro selection. Originally a drop-down menu with no filtering ability, it is now a filterable grid-style selection. Though it is visually different, things are still labeled appropriately for intuitive behavior. This immediately presents the 

 Macros, reducing the amount of clicks for users, as well as providing them with immediate clarity.