September 2017 - Feature Area and Rich Text Editor Updates
Feature Area #
At the end of August, we standardized any Feature Area using the Image Cropper Tool (department pages, office pages, landing pages), and the Feature Image archetype (typically used on Home Pages, allows for multiple Features) which is now called Randomized Features. The labels varied across the schools, but are now standardized into five fields:
Each site has updated the field name, and a description has been added to give editors further context and understanding of each field, its guidelines, and its purpose in the Feature Area. All information in the descriptions are also shared in the Website Content Guide in further detail.
These changes have been made to all sites that have been recently redesigned or created:
Learn More About The New Feature Area
Rich Text Editor #
Formatting Tool Bar Changes #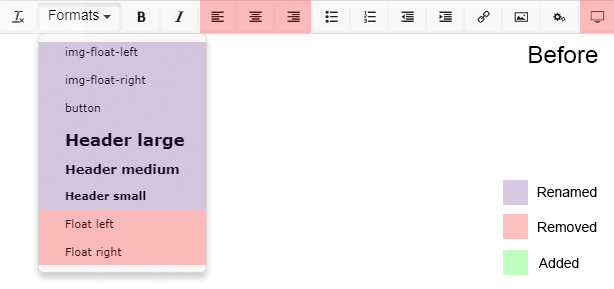 These changes are reflected in the following sites (including HSC Themes)
Formats Drop Down Changes #
At the beginning of August, we went through and removed "float-left" and "float-right", as well as renaming "img-float-(left/right)" to "Float Image (Left/Right)". The "Button" format also now shows styling around anything with the button format applied in the Rich Text Editor to give editors a better idea of what it will look like on the live site. As many of you have probably noticed, a few months ago we also changed our Heading and Subheading names from "Heading Large", "Heading Medium", and "Heading Small" to "Section Heading", "Section Subheading", and "Detailed Subheading".
Learn More About the Formatting Tool Bar
Tool Bar Changes #
At the end of August, we went through and standardized the Tool Bar options by removing all alignment (left align, center align, right align) options. Changing alignment from the standard left align hinders readability and is purely decorational. They were rarely used, but their few uses were more like abuses. Now that almost every school has been redesigned, editors should have no need to change alignment. The 

 Embed Iframe option has also been removed, and has now effectively been replaced by the 

 Embedded Video macro.