Rural Community Health Scholars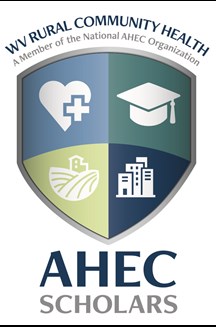 Two-thirds of West Virginians live in rural communities, and 50 of West Virginia's 55 counties are considered to be in health professions shortage areas and/or are medically underserved.
You can make a difference.
You can be a Rural Community Health Scholar. 
Rural Community Health Scholars:
Rural Community Health Scholars is a program designed with one goal in mind: to enhance your ability to create change and reshape the status quo for health care in your community. 
Throughout this program, you will engage in clinical, didactic, and community-based activities in rural and underserved areas of WV to build your skill set and positively impact the lives of West Virginians. 
As a Scholar, you will:
Become a leader in your profession and community.
Receive supplemental training and education from experts in rural healthcare.
Develop an astute understanding of how to best implement health care services in rural or underserved areas.
Learn how to work as part of an interprofessional team.
Provide meaningful patient care in the field and gain hands-on experience.
Visit the Program Overview tab to learn more!
Benefits:
Receive a $1,300 participation award (awarded in two installments).

*Please note that this award may affect your financial aid package; please contact Program Manager if you have questions.

Obtain national recognition for program participation.
Engage in interprofessional and inter-institutional collaboration.
Enhance your education through immersive experiences in clinical and community-based settings.
Receive advanced didactic training through online learning modules.
Make a direct impact on rural and underserved communities in West Virginia.
Grow your passions in a supportive, community-based learning environment.
Build relationships with scholars in other disciplines, faculty, staff, and clinical preceptors. 
Cultivate your professional skill set in leadership, problem-solving, community health, and innovation.
Make professional connections in the communities in which you may practice post graduation.
Let's transform West Virginia, together. 
For more information, please click through the menu tabs on the right-hand side of this page.