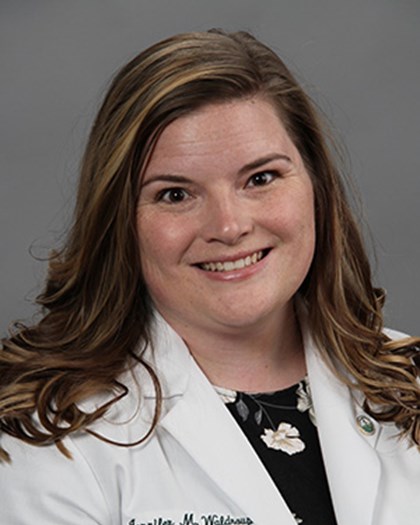 Jennifer Waldroupe
, DO
Hometown:

Greeneville, TN

Undergraduate Degrees:

MS Biomedical Professions, Lincoln Memorial University
BS Psychology, University of Tennessee at Chattanooga
Jennifer Waldroupe is a recent graduate of the West Virginia School of Osteopathic Medicine (WVSOM).  Raised in the small town of Greeneville, TN, she attended the University of Tennessee where she majored in Psychology with a minor in Chemistry. During her undergraduate curriculum, Jennifer developed a passion for behavioral health, and had the opportunity to complete a practicum experience at a state psychiatric hospital; there, she worked with patients that had a full spectrum of behavioral health needs and became increasingly aware of the scarcity of behavioral health resources in rural, underserved areas.
After completing her undergraduate degree, she went on to earn her Masters at Lincoln Memorial University in Biomedical Professions. Jennifer also worked as a Medical Scribe in a rural emergency room where she was able to expand her clinical acumen, and came to recognize the impact of provider shortage in rural communities. These experiences elucidated her awareness regarding the unique access barriers faced by community members in these areas; specifically, she noted that patients often times utilize emergency room services in place of primary care services and that patients with complex healthcare needs have a higher tendency to utilize emergency room services in place of primary care service. 
Ultimately, in an effort to combat these challenges and position herself to better provide prevention services to underserved communities in a primary care setting, Jennifer enrolled at WVSOM.  As a primary care physician, she considers it to be her mission to innovate and develop strategies to better engage individuals and families with limited resources; she believes that primary care physicians play a critical role in disease prevention and early identification of chronic illness. 
As a result, she chose to expand her skill set and acquire additional knowledge and resources to better help her future patients through the Rural Community Health Scholars program.
View More Profiles