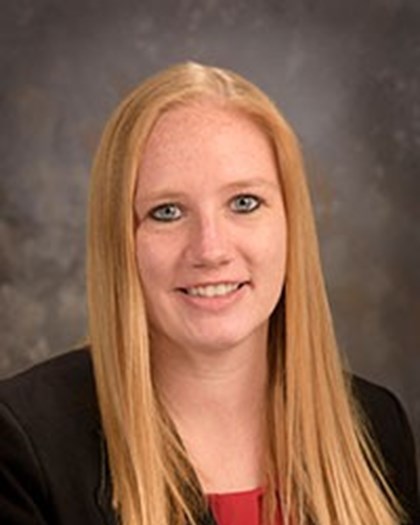 Kadi Cooley
, MD
Hometown:

Powell, WY

Undergraduate Degree:

BS Physiology, University of Wyoming
Kadi L. Cooley grew up in a rural town in Wyoming, where a unique set of experiences during her formative years strongly influenced her desire to serve medically underserved and rural communities.
During high school, Kadi shadowed in the operating room of her small town hospital where she saw everything from minor broken bones and farming accidents to preventative screening colonoscopies; it was through this opportunity that she developed an interest in, and passion for, surgical care.
Shortly after this venture, Kadi went on to receive a full-ride scholarship to the University of Wyoming where she earned her Bachelor of Science degree in Physiology. Over the course of her studies, Kadi worked with the Wyoming Center on Aging where she helped develop a resource guide for people with dementia and their caregivers. It was during this experience that she noticed a considerable gap in care: a lack of resources for caregivers of people with dementia in her home state.  This realization only further shaped her desire to improve community resources in rural communities.
Post graduation, Kadi was accepted to the West Virginia University School of Medicine where she joined the Rural Track program and the Rural Community Health Scholars program; her goal is to learn more about rural communities and the gaps in health care that affect small communities, like those in both West Virginia and her hometown.
She would be remiss not to share that her passion and desire to become a rural Physician has only been strengthened as a result of the experiences provided by her rural rotations and immersion trips; as an example, she participated in an immersion trip to the southern part of the state where she entered an active coal mine, visited a federal black lung clinic, and saw a respiratory rehabilitation facility. 
Specifically, this catered programming has allowed her to experience some of the limitations of rural West Virginia first-hand, such as lack of access to care or lack of specialists. Experiences provided by these programs (WVSOM, Rural Track, and RCH Scholars) allow Kadi to better serve and understand her patients while in medical school and beyond. She plans on applying to surgical residency programs and practicing in a rural community in the future.
View More Profiles