General Information About the Clinical Research Unit
West Virginia University Cancer Institute's Clinical Research Unit (CRU) is dedicated to providing the services and expertise that investigators need to conduct clinical trials and expand the growing body of biomedical knowledge. We offer a wide range of administrative and budgetary services to both clinical investigators and private industry.
Because West Virginia University is the state's primary research institution, WVU physicians represent a comprehensive range of specializations. Our staff has a sterling reputation for excellent patient care as well as timely delivery of valid and reliable data.
Unlike many other academic health centers, West Virginia University provides primary care services to a large, stable population of rural patients. WVU also provides secondary and tertiary care. Our patient population ensures a high degree of follow-up care and study completion that many other clinical trials facilities cannot offer.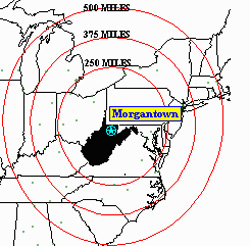 Baltimore, MD - 225 miles
Charleston, WV - 155 miles
Charlotte, NC - 385 miles
Chicago, IL - 528 miles
Cleveland, OH - 208 miles
Columbus, OH - 205 miles
Philadelphia, PA - 327 miles
Pittsburgh, PA - 77 miles
New York, NY - 393 miles
Norfolk, VA - 407 miles
Richmond, VA - 322 miles
Toronto, Canada - 384 miles
Washington, DC - 218 miles
Clinical trials are conducted at the West Virginia University Cancer Institute at West Virginia University in Morgantown, West Virginia. Located in northern West Virginia, Morgantown is easily accessible from Pittsburgh, PA and Washington, DC.