Clay Marsh honors third annual VP Achievement Award winners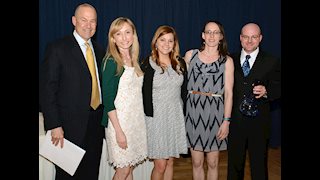 Vice President and Executive Dean of Health Sciences Clay Marsh, M.D., recently celebrated winners of the third annual Vice President's Achievement Awards. Awardees were recognized by their peers for their outstanding accomplishments at the WVU Health Sciences Center.
A total of 11 awards, honoring faculty and staff, went to individuals and one team. All faculty and staff working at the HSC were eligible, regardless of their organizational affiliation. The Vice President's Achievement Awards were created to commend personal achievements and success of team-based activities, and to foster accomplishments that contribute to the overall success of the HSC.
"The contributions of the Vice President's Achievement Award winners have crossed the traditional school boundaries at the HSC," Dr. Marsh said. "It does not matter whether they spend most of their time in clinics, labs, classrooms, or offices. All faculty and staff members are valuable. All are essential to the success of the Health Sciences Center."
Vice President's Award for Administrative/Managerial: Brooke Phillips
Brooke Phillips is a program specialist in the Department of Microbiology, Immunology and Cell Biology. Her nominators described her as a wonderful, dedicated and knowledgeable employee who can handle the toughest of situations with ease. "In all facets of this complex role in our department, she is reliably expert, professional and congenial even when our faculty have their 'hair on fire,'" Professor Kenneth Landreth, Ph.D., said. "As if this were not enough, Ms. Phillips is one of the most self-motivated individuals I have ever worked with. She only needs broad stroke outlines of a new departmental initiative to independently develop an action plan, establish a delivery schedule and then keep everyone in the project on task. In short, Ms. Phillips is the most effective administrative staff person I have ever worked with."
Vice President's Award for Clerical/Secretarial: Elaine Cumberledge
Elaine Cumberledge has been a WVU employee for more than 20 years and currently serves as a clinical scheduler in the School of Medicine's Department of Orthopaedics. Nominated by a number of her colleagues, Cumberledge possesses a positive attitude and extremely helpful nature. Several peers noted that she produces highly accurate work and has strong interpersonal and communication skills. "One of the few certainties I have is that when Elaine is given a task, it will get done and done right in a timely fashion," one nominator said.
Vice President's Award for Paraprofessional/ Technician: Nawfal Saaid
Nawfal "Nova" Saaid is an employee in the Office of Laboratory Animal Resources and currently holds the position of Program Assistant II. Saaid's supervisor, Frank Ali, nominated him for this award, noting that he is an excellent animal caretaker with superb observation skills and compassion for animals. "Nova has a very strong work ethic and commitment to his department," Ali noted. "Nova is very observant in his animal care skills. He notes abnormalities in animals' behavior. He is very quick to note equipment that is not functioning properly and repair it before it becomes a major mechanical problem. In addition, his resourcefulness has saved his department considerable funds during his employment."
Vice President's Award for Professional/Non-Teaching: Martha Power, C-FNP
Martha Power works at the Center for Basic and Translational Stroke Research, where she currently holds the position of stroke coordinator. Center Director James Simpkins, Ph.D., described Power as the "glue" that holds the stroke program together. She was invited and will serve on the Joint Commission for Certification of Stroke Center, the group that conducts reviews of the performance of all U.S. Stroke Centers for classification as a Primary Stroke Center or Comprehensive Stroke Center. During Power's time in the WVU Stroke Center, it has consistently been on the American Heart Association Gold Plus Performance Award and Target: Stroke Honor Roll. Dr. Simpkins wrote in his nomination that he has "never observed a person with more skills at and dedication to her job than Martha Power. She is truly an amazing person, whom we are lucky to have in the WVU Stroke Center."
Vice President's Award for Physical Plant/Maintenance/Service: Rhonda Gorbey and Ralph Smith
Rhonda Gorbey and Ralph Smith recently assisted with the WVU School of Medicine's LCME visit for accreditation. They were both nominated by Scott Cottrell, Ed.D. The exemplary team work of these individuals prompted comments such as, "(The reviewers) felt at home, and it was clear that WVU is an institution that is a good host."
Gorbey, who is a campus service worker in Facilities Management, went above and beyond to ensure that everything was spotless before the event. Dr. Cottrell commented that the rooms were "pristine" before the visit. Gorbey was also available to help the School locate necessary resources to prepare for the visit.
Smith also contributed greatly to the LCME visit by transporting the five-person accreditation team to all meetings and events in their very busy schedule. Cottrell noted that Smith is very conscientious, and as usual, he went above and beyond. "Ralph always greeted the team with enthusiasm and smiles and followed up with their requests," Cottrell said. "His dedication was noted by the visiting team and was a part of the overall smashing success for the School of Medicine."
Vice President's Award for Mentoring: H. Wayne Lambert, Ph.D.
WVU Department of Neurobiology and Anatomy Professor H. Wayne Lambert, Ph.D., joined the faculty in 2008. As the nominator for this award, Richard Dey, Ph.D., shared that Dr. Lambert has "actively engaged in mentoring medical students and residents in research activities" in all of his positions. Dr. Dey noted that Lambert "constantly engages students as an advocate and mentor through his sincere and energetic interactions as part of the process of teaching courses. Wayne has clearly gained the admiration and respect of the students as a mentor who can be trusted to guide students toward productive and valuable research, training and career opportunities." Many projects that Lambert and his mentees are involved in are collaborative projects with other universities, such as Johns Hopkins, BYU and UCLA.
Vice President's Award for Research and Scholarly Activity: James W. Simpkins, Ph.D.
Center for Basic and Translational Stroke Research Director James Simpkins, Ph.D., was nominated by several people. During his two and a half years at WVU, Dr. Simpkins submitted and was awarded a CoBRE grant for $10.7 million, which will be used for basic and translational stroke research. Simpkins has built collaborations with colleagues within and outside of WVU. "His energy, positive approach and forward vision have strengthened the interactions within the stroke group, including faculty physicians, nurses and administrators," one nominator said. All nominators agreed that the level of research Simpkins conducts was not only recognizable at the University level, but is a significant contribution on the national level as well. "He is … a researcher of the highest caliber…," another commenter noted. "His research has been instrumental in defining novel mechanisms of estrogen action that have unequivocally shaped how the entire field thinks about hormone therapy, its impact on the aging process and a variety of neurodegenerative conditions, including Alzheimer's disease and stroke."
Vice President's Award for Service: Kari Beth Law, M.D.
Kari Beth Law's nomination for the service award recognizes the outstanding work she has accomplished as the director of the WVU Telepsychiatry Program. Since she took the position in 2012, there has been a 53 percent increase in the number of patients served. Many of the counties where this program exists are medically underserved, and patients would not be able to receive treatment otherwise. Telepsychiatry services include psychiatric and medication management for adults and children and addiction treatment, among others. It is estimated that this program has saved more than 1.5 million miles in travel for patients. Dr. Law's nominator Marc Haut, Ph.D., praised her willingness to step up and help where there is a need. Recently, Law assisted system hospitals in Parkersburg and Martinsburg who have been struggling with recruitment of attending psychiatrists. With her guidance, an education and training component was added to the service that includes resident clinics as well as live supervision and co-therapy. "Under her leadership we have seen tremendous growth in our telepsychiatry services to some of the neediest and most underserved patients in the state," Dr. Haut noted. "These services make real … differences in these patients' lives."
Vice President's Award for Clinical Practice: Charles Rosen, M.D., Ph.D.
Dr. Rosen was nominated for the clinical practice award by many members in the WVU Department or Neurosurgery, as well as colleagues in other departments. His nomination praises his "long history of excellence in patient care." Since he became chair of the Department of Neurosurgery, he has continued to maintain his busy clinical and surgical practice, including performing procedures only done in a few locations worldwide. Rosen carefully tracks his personal metrics, as well as the department's, which is evidenced by the decrease in his new patient lag visit time, increased percentage of new patients seen within 21 days and the department's goal of having all new patients seen within 14 days. One colleague who nominated Rosen praised him for the success of the state's only dedicated cranial base neurosurgical program, which has allowed residents to stay in West Virginia for their care. Rosen has also assisted in developing outreach programs at United Hospital Center in Clarksburg and Ohio Valley Medical Center in Wheeling. Rosen's nomination included many patient letters, thanking him for his life-saving work. "His patients care and appreciate him dearly," one nominator wrote. "I have seen this through the heartfelt cards, family photos and letters thanking and blessing him for all he has done for them."
Vice President's Community Engaged Research Award: Ranjita Misra, Ph.D.
WVU School of Public Health M.P.H. Program Coordinator Ranjita Misra, Ph.D., received many nominations and letters of support for this award. Dr. Misra is involved in such projects as Diabetes Prevention and Management Programs in India and Determinants, Outcomes and Burden of Diabetes and Cardiovascular Disease among Mexicans and Mexican-Americans. Rounding out her work on the international scale, Misra has brought her diabetes management program to West Virginia with a church-based pilot program. Apart from her work with diabetes management and prevention, Misra served as the executive secretary of the Foundation for Health Care Advancement in Orissa, India, volunteered for Mother Teresa's Camp, and has worked with the Global Organization of People of Indian Origin. Last year, Misra was elected as the governing counselor for the Public Health Education and Health Promotion Section of the American Public Health Association. She also serves on the Public Health Committee of the American Association. "Dr. Misra's career has been distinguished by a lifetime of important service contributions in multiple arenas, with a particular focus on poor and underserved populations," one nominator wrote.
Vice President's Award for Team Achievement: Division of Bariatric and Metabolic Surgery – School of Medicine
WVU Department of Surgery Professor Don Nakayama, M.D., M.B.A., nominated the Division of Bariatric and Metabolic Surgery in recognition of the team's outstanding achievements last year. The team includes former chief Robert Quinlin, Alan Brader, Lawrence Tabone, Kristen Rosati, Sarah Bias, Shelley Talpas, Robyn Toner, Cindy McKinley and Stephanie Cox. Until two years ago, the Division of Bariatric Surgery did not exist. Dr. Quinlin joined the Department of Surgery and assembled a group of providers, dieticians, nurses and staff who have all been instrumental in determining the success of the program. One patient shared that her experience with the bariatric team was a life-saving experience. "Not only did I receive medical knowledge about the surgery and what to expect, but I received tremendous help via nutritional counseling and sound advice about the entire process…," one patient shared. "I am feeling healthier, my medical problems have improved dramatically, and I have so much energy. As the nomination materials suggest, the Bariatric Surgery is an important part of healthcare. "This service line is of critical importance as our state continues to struggle with the debilitating health effects related to obesity," one nominator wrote.