Back to

News
Drs. Jeremy Soule and Maryam Taufeeq Join WVU Physicians of Charleston Internal Medicine Endocrinology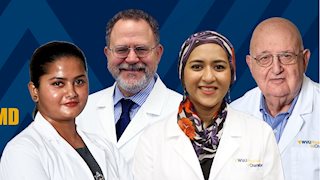 The WVU Physicians of Charleston Internal Medicine Specialty Office proudly welcomes Jeremy Soule, MD and Maryam Taufeeq, MD to their endocrinology practice at 3100 MacCorkle Avenue Suite 700 in Charleston, W.Va.
The WVUPC endocrinology team also includes Steven Artz, MD and Richa Singh, MD.
Endocrinology is the study of medicine that relates to the endocrine system, which is the system that controls hormones. Endocrinologists are specially trained to diagnose diseases related to the glands. Because these doctors specialize in these conditions, which can be complex and have hard-to-spot symptoms, an endocrinologist is a patient's best advocate when dealing with hormonal issues.
Most patients begin their journey to the endocrinologist with a trip to their primary care provider or family doctor. This doctor will run a series of tests to see what could be the potential problem the patient is facing. If a problem with the hormones is suspected, the primary care doctor will provide a referral. The endocrinologist's goal is to restore hormonal balance in the body.
The board certified team of specialists at WVU Physicians of Charleston bring a broad base of experience, compassion and training to treat endocrine disorders and diabetes.
Because they are faculty members of the WVU School of Medicine, they are also helping to educate the next generation of physicians through the West Virginia University School of Medicine.
The offices of the WVU Physicians of Charleston Internal Medicine Specialty Office office are located in Suite 700 of the Medical Staff Office Building at CAMC Memorial Hospital at 3100 MacCorkle Ave SE in Charleston W.Va. To refer a patient or request an appointment, contact the office by phone at 304-720-7305 or by fax at 304-720-7310. More information may be found online at www.wvupc.org or on social media by searching FaceBook for WVUPC Internal Medicine Specialty Office.