Four students complete cancer research fellowships at WVU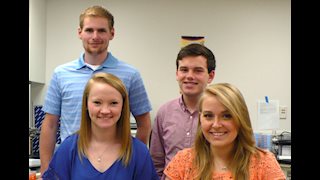 Four undergraduate students have completed cancer research fellowships at the West Virginia University Mary Babb Randolph Cancer Center this summer.
Abby Harold, Alyssa Thomas, James Fugett II and Patrick Thomas will share their research findings with their peers and mentors during a symposium at 2 p.m. Wednesday, Aug. 5, in the Cancer Center atrium.
The highly competitive Summer Research Fellowship Program at the MBRCC provides funding and opportunities for undergraduate students who want to pursue careers in cancer research or medicine. Students receive a $4,000 stipend and are paired with a WVU cancer scientist for a 10-week research project.
Harold studied the potential role of a specific group of molecules that may help explain why female patients with non-small cell lung cancer respond better to radiation therapy than their male counterparts. Her mentor was Ivan Martinez, Ph.D., in the WVU Department of Microbiology, Immunology and Cell Biology. Harold is the daughter of Michael and Michelle Harold of Commerce, Georgia. She is a junior at WVU and is majoring in immunology and medical microbiology.
Alyssa Thomas studied how the relationship between certain proteins controls cell activity that can cause cancer to spread. Her mentor was Steven Frisch, Ph.D., in the WVU Department of Biochemistry. The daughter of Otis and Gayle Thomas of Dunlo, Pennsylvania, Alyssa Thomas is a senior at WVU and is majoring in biology with a minor in history.
Fugett studied the mechanisms of activation of key genes that contribute to cancer spreading. His mentor was Alexey Ivanov, Ph.D., in the WVU Department of Biochemistry. The son of James and Brenda Fugett of Williamson, Fugett is a senior at WVU and is majoring in biology.
Patrick Thomas studied how the bone marrow microenvironment can affect the progression of leukemia. His mentor was Laura Gibson, Ph.D., senior associate vice president for the Office of Research and Graduate Education. Patrick Thomas, the son of Joe and Tammy Thomas of Hurricane, is a sophomore at WVU and is majoring in biomedical engineering.

Financial support for the fellowship program comes from the Edwin C. Spurlock Fellowship Fund, the Edward L. Reed Cancer Research Endowment, the Dr. David B. McClung Cancer Research Endowment Fund and the Joe Marconi Cancer Research Fellowship Endowment.
For information on the fellowship program at the WVU Cancer Center, visit wvucancer.org/education/Undergraduate.