Back to

News
Gov. Justice names WVU's Clay Marsh to lead COVID-19 efforts for West Virginia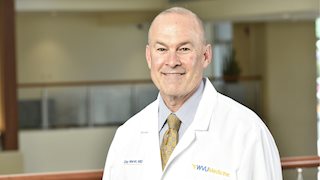 West Virginia Gov. Jim Justice named Clay Marsh, M.D., West Virginia University's vice president and executive dean for Health Sciences, the state's COVID-19/Coronavirus Czar during a press conference at the Capitol Complex in Charleston on Thur., March 26.
"I have solicited WVU, and they have agreed to loan us the services and expertise of Dr. Clay Marsh, so I am appointing him as our COVID-19/Coronavirus Czar," Gov. Justice said. "Dr. Marsh has done an incredible job, as have all the members of our team, to guide us through this challenging time and him coming on board full-time adds one more layer of experience and knowledge."
Marsh was asked to take this role, supported by West Virginia University, to coordinate activities related to the novel coronavirus pandemic.
"West Virginia University has been committed to helping the state prosper since its founding in 1867. To contribute Clay Marsh, one of the finest minds in medicine, to battle against COVID-19 is a commitment we make with great pride as we all work to keep our citizens safe and healthy," WVU President Gordon Gee said. "As a native West Virginian, his leadership will reflect our love for the people of this state, a commitment to sound public policy and extraordinary knowledge of the issues at hand. He will do so in collaboration and cooperation with all those involved in this important fight."
Also with the support of WVU, William D. Ramsey, M.D., associate vice president for coordination and logistics, will provide strategic guidance and logistical support to Marsh in this role.
While Marsh and Ramsey are working with state officials to address the novel coronavirus pandemic, Jeffrey Coben, M.D., associate vice president for health affairs, will assume the responsibilities and duties of managing the oversight of the Health Sciences Center.
Marsh will remain actively engaged with the clinical affairs of the School of Medicine and will continue to work closely with the School's leadership to ensure coordination with the state and WVU Medicine health system.
"I'm honored to serve in this role under the leadership of Gov. Justice, and I look forward to helping protect and prepare our communities and our frontline healthcare providers," Marsh said. "I will remain engaged with the University and Health Sciences, and I have great confidence in Jeff's leadership and that of our extended team to continue the operations of the Health Sciences Center."
These leadership changes are effective Friday, March 27. The Health Sciences Incident Command System will remain intact and continue to operate in collaboration with J.W. Ruby Memorial's Incident Command System and WVU's executive leadership team.