Hospital leaders from China study trauma care at WVU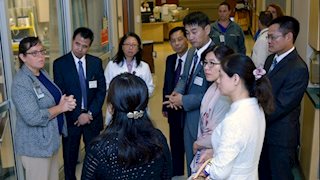 This week, the WVU Medicine Jon Michael Moore Trauma Center and the WVU Health Sciences Global Engagement Office welcomed several leaders from Changzhou No. 2 People's Hospital, Jiangsu, China. The group, led by hospital president Xihu Qin, M.D., Ph.D., traveled to Morgantown to study WVU's trauma program.

Alison Wilson, M.D., Skewes Family Chair of Trauma Surgery in the WVU School of Medicine, acted as one of their hosts and described how WVU Medicine organized and maintains the region's only American College of Surgeons nationally-verified Level 1 trauma center.
Other members of the China delegation included trauma specialist Zhongjie Yu, M.D., cardiothoracic surgeon Yong Wang, M.D., nursing administrator Yuhong Xu, and Xiaoqian He of the Changzhou Health and Family Planning Commission.
"The visit was very successful," said Allie Karshenas, Ph.D., who leads WVU's health sciences global engagement group. "It provided us with many future opportunities for bi-lateral collaborations across a number of programs."