In orbit: WVU Medicine Children's Kids Fair was a blast for families; photo gallery from event available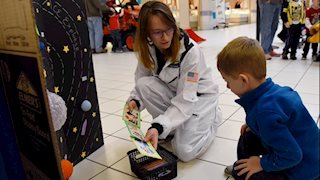 WVU Medicine Children's hosted its 19th annual Kids Fair Saturday, April 22, at the Morgantown Mall. The event, themed "Launch Into Wellness," focused on helping kids to be "mission ready" for a lifetime of good health. A CONNECT photo gallery from the event is available.
Many of the 53 exhibitors taught children daily health habits. Puppets demonstrated how to properly brush and floss. Kids learned how to make smart, nutritious food choices and were encouraged to get moving and stay active.
Children learned about the dangers of tobacco use and how to be good stewards of the environment. Many exhibitors showcased safety practices.
Many "stars" made special appearances at the event, including Alliance of Therapy Dogs; Cooper, the West Virginia Black Bears mascot; Monti, the Mountaineer bear; the WVU Mountaineer and Muskett, the Mountaineer's "little furry friend;" Ronald McDonald; Smokey Bear; and the WVU Robotics Team.
Kids were encouraged to attend the event dressed in their favorite space or sci-fi gear.