Scientist welcomes challenges from students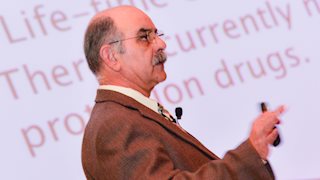 Simpkins to deliver Benedum Lecture Sept. 29
MORGANTOWN, W.Va. -- "Question authority. Even mine."
That's the message WVU neuroscience researcher Dr. James Simpkins has for students and young scientists.
Simpkins will deliver the Benedum Distinguished Scholar lecture at 4 p.m. Tuesday, Sept. 29, in the Erickson Alumni Center. His topic, "Wandering in Aging Research: A Life of Running Against the Wind," draws on his experiences throughout his academic career.
"Scientific inspirations come unexpectedly," he says. More than once, he said, he was absolutely sure he knew the answer to a problem in the lab, only to learn something new when a student dared to defy him.
Simpkins was selected as one of four 2015 Benedum Distinguished Scholars earlier this year.
The award honors excellent faculty doing creative research at the University.
Simpkins, director of the Center for Basic and Translational Stroke Research, is focused on discovering novel compounds for the treatment of stroke and age-related brain disorders, including Alzheimer's disease.
--WVU--