Together, West Virginia healthcare providers work to solve state's health needs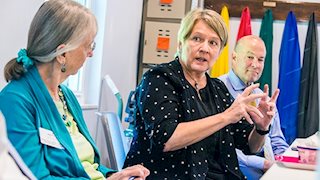 On a misty July morning at a community clinic, healthcare workers gathered in a conference room to take a look at the big picture.
Every day Cabin Creek Health Center in Dawes, West Virginia, treats patients in the community 30 minutes outside the capital city of Charleston. And trends are emerging that require a coordinated effort. Widespread heroin addiction has triggered a rise in hepatitis C through shared needle use. It's difficult for local residents to reach specialists. And poverty affects transportation, nutrition, mental health — everything.
"Hepatitis C, if we don't do something about it, it's going to be a public health nightmare," said Amber Crist, director of education and program development at Cabin Creek Health Systems. "And I don't just mean we here at Cabin Creek, but as a state I think it's something that we really need to be focusing on."
The meeting was part of an effort that patients probably don't think about when they're seeking care. Cabin Creek Health Systems is a member of a statewide network that conducts research, the West Virginia Practice-Based Research Network. It's the outreach arm of the West Virginia Clinical and Translational Science Institute, headquartered atWest Virginia University. These researchers look at what patients need, study how they're meeting those needs and discover ways to improve care.