WVCTSI names four new Research Scholars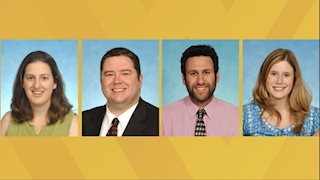 Four clinician scientists have been named research scholars by the West Virginia Clinical and Translational Science Institute. The four investigators awarded this designation include: Treah Haggerty, M.D., Matthew Dietz, M.D., Malcolm Mattes, M.D., and Nicole Bryan, M.D., Ph.D. The WVCTSI Research Scholar Program enhances the development of exceptional early career researchers in clinical and/or translational science.
Dr. Haggerty is a clinician and assistant professor in the West Virginia University Department of Family Medicine. She also serves as the director of the Family Medicine Rural Scholars Program. During her time at WVU, Dr. Haggerty has been an investigator on several West Virginia Practice-Based Research Network projects, and she has partnered with several WVPBRN sites to target obesity and wellness education in West Virginia.
Dr. Dietz is an orthopaedic surgeon and assistant professor of orthopaedics at WVU. During his time at WVU, Dr. Dietz's has served as the principal investigator for three WVCTSI-funded pilot studies. Dr. Dietz is primarily interested in reducing infections in patients with surgical implants.
Dr. Mattes is a radiation oncologist and assistant professor of radiation oncology at WVU. Dr. Mattes specializes in radiation therapy with a special interest in lung, prostate, bladder, anorectal, and esophageal cancers. He has been involved with several clinical trials aiming to improve the diagnosis, treatment, and quality of life of cancer patients.
Dr. Bryan is a clinician in the WVU Department of Infectious Disease with an interest in identifying new ways to address the epidemic of hepatitis C in West Virginia. She is also currently collaborating with researchers at the National Institute for Occupational Safety and Health (NIOSH) to study the immune response to influenza infection.
These four clinician scientists have diverse research interests that will help address the health issues most pressing to the people of West Virginia, including WVCTSI priority areas cancer, addiction and resultant emerging epidemics, and cardiovascular disease.
As WVCTSI Research Scholars, 50 percent of their time will be protected for research. In addition to monetary support, these investigators will also be mentored by interdisciplinary teams of clinicians and research scientists.
"All of these early career investigators are exceptional scientists who have an excellent opportunity to address the health issues that impact West Virginia most," said Sally Hodder, M.D., WVCTSI director. "WVCTSI is very pleased to be able to support researchers of this caliber."
Haggerty, Dietz, Mattes, and Bryan join a list of three current WVCTSI Research Scholars:
Sachin Bendre, M.D., Ph.D, assistant professor, WVU School of Medicine - Charleston; Charleston Area Medical Center

Danielle Davidov, Ph.D., assistant professor, WVU School of Medicine

Julie Brefczynski-Lewis, Ph.D., research assistant professor, WVU School of Medicine
This brings the list of current and former research scholars to nine.
WVCTSI Background
In August 2012, the WVCTSI was awarded a $19.6 million IDeA Clinical and Translational grant from the National Institute of General Medical Sciences titled "West Virginia IDeA CTR" [Institutional Development Award for Clinical and Translational Research, 1U54RR033567-02; Hodder (Principal Investigator)] to support WVCTSI's mission of building clinical and translational research infrastructure and capacity to impact health disparities in West Virginia.
This grant was matched by a $33.5 million commitment from several West Virginia entities to create a total funding of $53.1 million to recruit 24 clinician scientists and provide infrastructure core support in biostatistics, bioinformatics, community engagement and outreach, clinical research education and mentoring, ethical and regulatory knowledge support, and pilot grants to grow clinical and translational research in the state.