Back to

News
WVU Charleston Campus Sponsors Gifts for Foster Children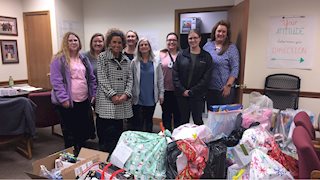 The West Virginia University School of Medicine Charleston Campus departments of medicine and student services joined together with NECCO to sponsor gifts for children in foster care in the Charleston area. Staff members worked with the NECCO organization to sponsor 16 local foster children.
Across West Virginia, Ohio, Kentucky, and Georgia, The NECCO organization has placed thousands of children with supportive and caring families. NECCO offers a range of services aimed at fostering children, family preservation, preventing certain offenses, managing addiction and more.
The staff are honored to support the NECCO organization and hope that the gifts they sponsored will make the holiday season brighter for the young people they are reaching with this program.
West Virginia University's Charleston Campus works to educate caring health care professionals, provide research and offer services to improve the health of West Virginia citizens. Over 100 WVU faculty and 400 clinical faculty provide training and educational oversight to both medical student clerkships and to the CAMC residency programs. Each year, 70 to 80 students and more than 150 residents are on campus furthering their education.
Pictured L-R – Mary Doss (Medicine Coding), Sarah Collins (Medicine), Jennifer Griffith (Medicine), Charissa Davis (Student Services), Laura Florence (Student Services), Sara Giles (Medicine Coding), Kendra Berkhouse (Medicine Coding), and Misty Hodel (CAMC Residency Coordinator).