Back to

News
WVU Charleston Featured in New Book on Regional Medical Campuses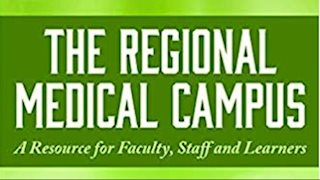 Faculty and a fourth year medical student of West Virginia University's School of Medicine Charleston Campus have authored a chapter in the recently released book, "The Regional Medical Campus: A Resource for Faculty, Staff, and Learners," by Michael P. Flanagan, MD, FAAFP.
The book includes a chapter entitled "Student Services at a Regional Campus" by authors Callie D. McAdams, MSIV a student of the West Virginia University School of Medicine Charleston Campus, Kathleen P. Bors, MD, Assistant Dean of Students and Assistant Professor of Family Medicine at West Virginia University School of Medicine Charleston Campus, and John C. Linton, Dean and Associate Vice-President for Health Sciences for West Virginia University School of Medicine Charleston Campus.
The amazon.com listing for the book includes the following description by its author: The Regional Medical Campus (RMC), a branch of the main medical school campus, is a growing phenomenon in the U.S. and Canada. Like a seedling that sprouts in soil distant from the original tree, RMCs often take root in distributed regions that allow for more efficient use of available resources. In recent years, the Association of American Medical Colleges (AAMC) has called on medical schools to educate and train more doctors to meet a predicted physician shortage across all specialties. Finite resources at most medical college campuses, coupled with the call to train more health professionals, has resulted in an increasing number of schools developing regional campuses to help meet this need. Until now there has not been a good resource that shares common challenges and solutions, answers to frequently asked questions, or best practices and functional organizational designs for Regional Medical Campuses. Like the seedling that struggles to push through the soil, withstand the elements, and eventually blossom, the Regional Medical Campus must also frequently overcome multiple obstacles to succeed. These challenges may range from financial to academic to social. The shared goal of faculty, staff and learners at any RMC is that their campus, like the seedling on the cover of this book, will grow, flourish and bear fruit. The Regional Medical Campus, a Resource for Faculty, Staff and Learners is designed to nurture RMC's by providing the pooled experience, insight and understanding of those who are cultivating daily in the RMC garden. -Michael P. Flanagan, M.D., FAAFP
The chapter by McAdams and Drs. Bors and Linton outlines the key functions of student services staff relative to medical student satisfaction at a regional medical campus, and gives both faculty and student perspectives on ways in which student services at regional and main campuses cooperate to assure both required commonalities and inevitable uniqueness in the student experience.