WVU Charleston Pediatrics Department Congratulates Dr. Anjlee Patel on Passing Her Pediatric Cardiology Boards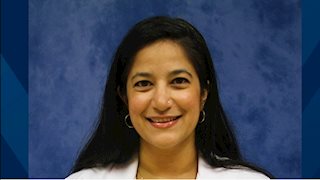 Congratulations to Dr. Anjlee Patel of the West Virginia University's School of Medicine Charleston Campus Department of Pediatrics on passing her American Board of Pediatrics' Cardiology boards.
Originally from New York, Dr. Patel joined Department of Pediatrics at West Virginia University-Charleston Campus in 2015. She did her under-graduation from Union College, Schenectady, NY, and went on to medical school at Albany Medical College in Albany, NY. She completed a combined Med-Peds residency training at Mount Sinai Medical Center, NY in 2011 and was appointed as Chief Resident for Pediatrics at Elmhurst Medical Center, NY. Dr. Patel returned back to Mount Sinai Medical Center in 2012 for her Pediatric Cardiology fellowship which she completed in 2015.
Dr. Patel joins the WVU Charleston Campus's Pediatric team in the Cardiology section in providing academic support to the WVU medical clerkships and CAMC residency programs, as well as patient care in the WVU Physicians of Charleston Pediatric Specialists office.
"We are proud of Dr. Patel's accomplishment," said Raheel Khan, MD, Chairman of the Department of Pediatrics at West Virginia University's School of Medicine Charleston Campus. "She is involved not only in caring for pediatric patients with a variety of cardiac problems but also actively engaged in mentoring the residents and medical students in her specialty."