Back to

News
WVU Charleston physician Joshua Cusick-Lewis uses advanced optical equipment to improve the ability to detect skin cancers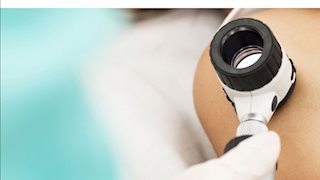 CHARLESTON, W.Va. – With the prevalence of skin cancers steadily rising, early detection and treatment has never been more imperative.
Major advances in optical equipment to examine skin lesions has vastly improved the ability of physicians to recognize suspicious pigmented lesions.
Joshua Cusick-Lewis, MD, MPH, an assistant professor of family medicine at West Virginia University's Charleston Campus, has brought this technology to his work as a family physician at CAMC Family Medicine Center in Charleston, and is sharing the importance of this diagnostic tool as he works with students and residents on the campus.
Dermoscopy or dermatoscopy refers to the examination of the skin using skin surface microscopy, and is also called 'epiluminoscopy' and 'epiluminescent microscopy'. Derm(at)oscopy is mainly used to evaluate pigmented skin lesions. The use of this technology has uncovered a fascinating new morphological dimension of pigmented skin lesions that is increasing the effectiveness of clinical diagnostic tools to differentiate melanoma from other pigmented skin lesions.
"Dr. Cusick-Lewis brought dermoscopy skills to our medical campus and family medicine department with a core third year medical student workshop each block, and also hosts an annual series to our residents during family medicine didactics," said Kathleen P. Bors, MD an assistant professor of family medicine and assistant dean of student services for the WVU School of Medicine in Charleston. "He's a passionate champion of teaching dermoscopy skills and 'spreading the word'."
Dr. Cusick-Lewis is currently working on a grant proposal to provide working dermatoscopes to residents in training and to rural providers in the state of West Virginia.
He was recently invited to present at the annual Kentucky American Academy of Family Physicians (AAFP) Conference, and has given multiple presentations in West Virginia, Tennessee, and beyond -- including family medicine residency program workshops over the past 5 years.