Back to

News
WVU Charleston's Dr. Atul Singh Accepted to Ultrasound Fellowship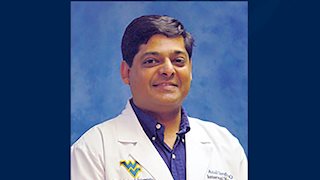 Dr. Atul Singh, Assistant Professor of Internal Medicine at WVU School of Medicine's Charleston Campus has been accepted to the Primary Care Ultrasound Fellowship at University of South Carolina!
The mission of the Primary Care Ultrasound Fellowship is to develop physicians in the specialties of internal medicine, family medicine and pediatrics who have the expertise to use ultrasound at the point-of-care in outpatient and inpatient settings, who can conduct research in ultrasound applications in primary care and can educate medical students, residents and practicing physicians.
As ultrasound devices become smaller, more portable, and more user friendly, there is now widespread use of this technology by physicians of all specialties, yet there are currently few structured opportunities for ultrasound education outside of emergency and critical care medicine. Anticipating the rising educational demand in the primary care specialties, the University of South Carolina School of Medicine created a primary care ultrasound fellowship in 2011, the first yearlong training program in point-of-care ultrasonography for graduates of internal medicine, medicine-pediatrics, pediatrics, and family medicine residencies.
Dr. Singh will join the fellowship on July 1, 2020 with plans to return to the WVU Charleston Campus on July 1, 2021 with newly acquired ultrasound skills for resident education.