Back to

News
WVU Charleston welcomes new students and faculty advisor to Gold Humanism Honor Society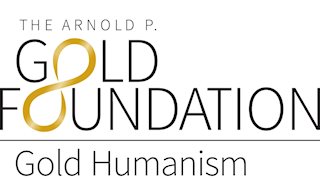 The West Virginia University School of Medicine Charleston Campus proudly welcomes three new student members and a new faculty member to the 2020 class of the Gold Humanism Honor Society.
The Gold Humanism Honor Society (GHHS) is a national honor society that honors senior medical students, residents, role-model physician teachers and other exemplars recognized for demonstrated excellence in clinical care, leadership, compassion and dedication to service. It was created by the Arnold P. Gold Foundation for Humanism in Medicine.
Third year medical students Will Crecelius, Landon Simpson and Evan Vance have been chosen for this distinction by their WVU School of Medicine peers and faculty for their exemplary competence, compassion and model of humanism in medicine.
John Linton PhD, Associate Vice President for Health Sciences and Dean of the School of Medicine in Charleston will also be added to the GHHS faculty team in Charleston. Dr. Linton been a tremendous GHHS Summit supporter, advocate and active member of the annual GHHS Summit Planning committee for several years.
They will all be welcomed by Norman D. Ferrari III, MD Vice Dean for Medical Education and Chair of the Department of Medical Education and WVU GHHS Faculty Advisor in ceremonies in Morgantown in June.
The GHHS members undertake many projects throughout the year. In February, they join their peers nationally in GHHS Solidarity Week, encouraging activities that promote humanism in medicine throughout the country. This year's GHHS team is considering various service options including a 'coat and toiletries drive', together with student leaders of the Charleston area CHASM Street Medicine and Manna Meal volunteer groups.
GHHS will host an annual WVU-Charleston GHHS Summit, "Professional Advocacy: Beyond the Bedside", to be held Thursday, April 16, 2020; at the WVU Charleston Campus. The Summit's topic was chosen by GHHS fourth year medical student members and will include a series of Professional Advocacy lectures and interactive workshops led by national AAMC representatives, as well as Statewide and local physician and faculty advocacy leaders. The Summit will be co-planned and led together with WVU-Charleston Women in Medicine (WIM) core faculty, Dr. Beth Emrick as WIM faculty lead; and GHHS resident and faculty members.
GHHS student, resident and faculty members provide ongoing volunteer leadership, coordination and service to the Charleston community including: CHASM – Charleston Homeless and Street Medicine rounds at Union Mission Mens' Shelter, Roark-Sullivan Lifeway Center, and YWCA/Sojourner's Women and Childrens' shelter. These bi-weekly sessions provide blood pressure screenings and medical advice, as well as clothing and food donations. GHHS members also volunteer at St. John's Manna Meal, offering monthly sessions providing blood pressure screenings and medical advice, as well as food prep and donations, and community garden work. In addition, members give their time to Kanawha Communities That Care programs, coordinating a range of community-based resources and support; and several campus-wide drives throughout the year to collect and provide clothing, toiletries and food for local and regional communities in need.
The WVU Gold Humanism Honor Society not only reaches out to the community, but also encourages and inspires their fellow students. Partnering with the WVU Alumni Association, they provide GHHS 'pocket cards' for each second year WVU medical students, placing cards in their peers' white coats during the White Coat Ceremony held in March. These cards 'spread the word' and support GHHS goals of competence and compassion: each contains a practical template for a complete Medical History, as well as a reminder of the GHHS national and WVU Chapter mission and goals.
The new GHHS members will join WVU Charleston campus medical students Brooke Bertus MS4, Tommy Casto MS4, Thomas Gaughan MS4, Joe Marshalek MS4, Luke Roberts MS4, Grace Walkup MS4 and David Zekan MS4, post-graduate residents Rebecca Brown MD, internal medicine/psychiatry PGY2, Sarah Curry MD, Family Medicine PGY3; and Darrin Nichols MD PGY3, former Chief Resident, and Chelsea Knotts, Surgery PGY4 in the Gold Foundation program whose mission is to infuse the human connection into healthcare by engaging schools, health systems, companies, and individual clinicians in the joy and meaning of humanistic healthcare, so that they have the strength and knowledge to ensure patients and families are partners in collaborative, compassionate, and scientifically excellent care.
The WVU Charleston GHHS team includes Jim Griffith, MD, Associate Dean and Charter WVU School of Medicine GHHS faculty member, Kathleen Bors MD, FAAFP, Gold Humanism Honor Society Campus Faculty Advisor, Jim Mears, MD, WVU Family Medicine/CAMC Palliative Care, GHHS Faculty member, Mary Ann Maurer, DO, WVU Family Medicine, GHHS faculty member, and newest GHHS Faculty member John Linton PhD.
Crucial administrative support comes from student services staffer Laura Florence who serves as GHHS Summit and Events Coordinator, together with Charissa Davis; as well as assistance from the AVP office and marketing and communications in Charleston.
GHHS Faculty Advisor Dr. Kathleen Bors invited the new members and also Dr. Linton to the GHHS family. In welcoming Linton to the faculty group, she noted, "Dr. Linton's wisdom and kindness are unparalleled. He sets the tone for humanism in medicine every single day with his character, core values, and endless enthusiasm for excellence in teaching and patient care."
Congratulations to Evan Vance, Landon Simpson, Will Crecelius and Dr. John Linton to the 2020 Gold Humanism Honor Society class.