Back to

News
WVU Health Sciences awarded $1.9M for predoctoral training in behavioral and biomedical sciences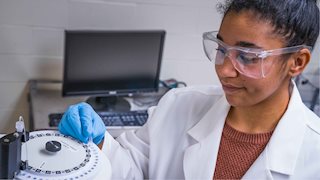 West Virginia University's Health Sciences Behavioral and Biomedical Sciences (BBS) predoctoral training program was recently awarded a five-year, $1.9 million grant to prepare behavioral scientists for leadership roles related to the nation's biomedical, behavioral and clinical research needs.
Funded by the National Institute of General Medical Sciences, the program is designed to provide partial tuition support and full stipends, in addition to various professional development activities, for eight trainees per year. WVU's BBS program is one of only five programs in the country supported by this T32 award mechanism.
Trainees are selected for appointment through a competitive application process after their first year of graduate study. Since its creation in 2008, a total of 27 students have completed the BBS program and 23 have successfully defended their doctoral dissertations.
"The BBS program's flexibility allows students to tailor their value-added training experiences to include seminars, workshops, nano-courses and clinical immersion rotations," Albert Berrebi, assistant vice president for health sciences research and principal investigator on the grant, said. "The grant also funds travel for students to present their research at scientific conferences. These training and experiential activities foster leadership, teamwork and communication skills, teaching excellence, responsible conduct of research, and a broad understanding of issues related to human health and wellness, physiology and disease."
Current and previous students and mentors have been selected from doctoral programs in the Schools of Medicine, Pharmacy and Public Health, as well as the Eberly College of Arts and Sciences and the Davis College of Agriculture, Natural Resources and Design. More than 50 faculty preceptors currently participate in the program, which is co-directed by Berrebi, James Simpkins, director of the Center for Basic and Translational Stroke Research, and A. Courtney DeVries-Nelson, the John T. and June R. Chambers Chair of Oncology Research.
For more information about the program, visit the Health Sciences Office of Research and Graduate Education's site.