WVU, WVSU launch collaborative extended campus MSW program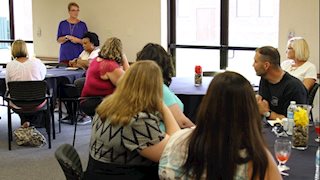 West Virginia University (WVU) and West Virginia State University (WVSU) are prepared to welcome new students this month to a collaborative graduate social work program. The collaboration is designed to not only serve students in the Kanawha Valley but provide new opportunities for the state's only two land-grant institutions to work together.
Students in the collaborative program will be able to earn a master's degree in social work (MSW) in as little as one year, or up to three years for those working full-time. Students will attend classes at WVSU's campus in Institute, West Virginia as well as WVU's Charleston Division campus in Kanawha City. MSW students will have the option of taking some elective courses at either campus or online.
The inaugural class of students and faculty joined administrators from both schools for an open house on WVSU's campus Monday afternoon to celebrate the launch of the program.
"One of the many draws to this collaboration between our two universities is our approach to continuing education opportunities," said WVU President Gordon Gee. "Fit and flexibility are key, and this new master's degree program is a wonderful example of our commitment to helping students around the Mountain State launch careers doing what they love."
WVU's Eberly College of Arts and Sciences has hosted the extended campus MSW program in Charleston since 1995. The collaborative MSW degree program is fully accredited by the Council on Social Work Education.