Summer Research MS1 Students
The INTRO (Initiation to Research Opportunities) Summer Research program affords first-year medical students the opportunity to gain valuable research experience. The summer following their first year, students who are selected for the program will spend 8-9 weeks conducting research in their field of interest with a faculty mentor and receive a stipend of $4,000.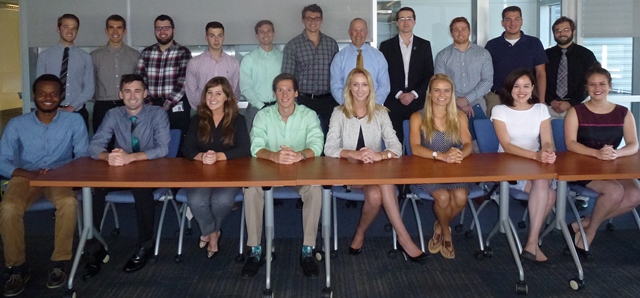 The MS1 INTRO researchers with Dr. Clay Marsh, August 2, 2016.  This was the capstone enrichment session for the 2016 group. 
Diverse research projects are available across all the Schools in the HSC and include a variety of topics within Medicine (Basic, Translational and Clinical science), Pharmacy, Dentistry and Public Health.  Interested students should initiate contact with a mentor (MS1 INTRO Mentors listing) and subsequently submit the INTRO research application form to Holly Legleiter by March 15, 2017 for consideration.  The MS1 INTRO Mentors list serves as a guide of available mentors. Students are free to partner up with any faculty mentor here at HSC, even if not listed on the MS1 INTRO Mentors list. Students will be notified by April 1, 2017 regarding selection for participation in the Summer program.
For those MS1 applicants from Marshall University or West Virginia School of Osteopathic Medicine, please submit this application form and CV to Holly Legleiter.
Deadline to apply is March 15, 2017. 

This year's program will take place from June 9-August 4, 2017. Selections for the program will be made by the INTRO Admission Committee and will be announced in early April.

Students interested in applying for the INTRO program must:
Identify a faculty mentor 
Meet with the faculty mentor about the project and develop a project plan
Complete and submit the INTRO application, CV, Research Proposal, and all supporting documents

Proposed research projects may require approval by the Institutional Review Board (IRB). If the research project utilizes biological specimens, approval must be obtained first by the Institutional Biosafety Committee prior to IRB submission. The level of review is driven by the level of risk. All projects should be submitted to the IRB to determine which category they fit into.
The three primary levels of IRB reviews include:
Exempt research: Common examples include anonymous surveys, retrospective studies, and educational research.
Expedited research: This level includes projects that show minimal risk.
Quorum research: This level includes projects that show more than minimal risk.
It is required that your project has research IRB approval before June 9th for you to be eligible as an INTRO trainee (if applicable).
 
Requirements for INTRO trainees:
Attendance at the orientation lunch and all enrichment or professional development sessions.
Submission of a 5-page written summary (in manuscript format) of the INTRO research experience.
Submission of an abstract for oral or poster presentation during the E.J. Van Liere Memorial Convocation at the HSC Research Day the following spring.

The application, CV and all supporting documents should be submitted to Holly Legleiter at hlegleiter@hsc.wvu.edu. For any questions, please email her or contact her at 304-293-7207.