Picture a Scientist Documentary Virtual Screening and Q&A
Check back for further details soon!! For more information on the film use this link.
EYH 2021 - TBD
Unfortunately we had to postpone our event to 2021 due to COVID19. EYH 2021 at WVU Potomac State College, time and date TBD. See https://eyh.techbridgegirls.org/conferences/WestVirginia2020/ for further details and registration.
AWIS-WV Member, Dr. Mary Beth Adams, WVU Commencement Speaker
Dr. Mary Beth Adams, research soil scientist with the USDA Forest Service, was invited to present the address at West Virginia University's Davis College of Agriculture, Natural Resources and Design 2019 commencement, on May 10, 2019 at the WVU Coliseum. Congratulations Mary Beth!  
AWIS-WV receives the Star Chapters and Affiliates Award
The Association for Women in Science (AWIS) is announcing the recipients of its 2018 STAR Chapters and Affiliates Award. Thirty AWIS chapters and affiliates from coast-to-coast will receive the STAR Award for demonstrating strong leadership and well-organized programs to advance women in STEM in all employment sectors. Groups that successfully accomplish 12 of the goals outlined by the AWIS National Governing Board and the Chapters and Affiliates Committee during the fiscal year are honored with the annual AWIS STAR Chapters and Affiliate Award.
AWIS-WV to host annual Expanding Your Horizons event for middle school girls
The Expanding Your Horizons Conference is for 5th-9th grade girls. The 2019 event will be held on March 30th at WVU Tech in Beckley, WV. More details and registrations are available at http://www.expandingyourhorizons.org/conferences/WestVirginia/
AWIS Networking Lunches
Come have lunch and network with women in STEM fields. All students and faculty are welcome! Time and dates TBA.
AWIS-WV receives 2014-2015 Star Chapter Award
The WV Chapter of AWIS has received the Star Chapter Award for the second year in a row. The Award is given to chapters that demonstrate through an application that they have done at least a minimum of activities that align with the Strategic Plan.
AWIS-WV receives generous donation to support outreach
The WV Chapter of AWIS has received a generous donation from Jan Westerik to honor his wife, Judith Westerik, who was an officer in our WV AWIS Chapter for many years. We thank Jan for remembering the work that Judith did as our treasurer. Judith will be sadly missed, but her memory lives on as scholarship funds for middle school girls to attend outreach activities geared toward STEM career fields.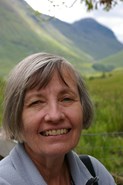 Judith Westerik, PhD 
WV School of Osteopathic Medicine