Berkeley, Jefferson Medical Centers to celebrate Certified Nurses Day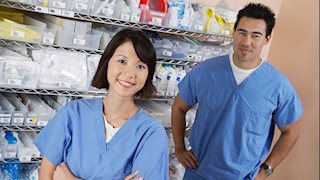 MARTINSBURG, W.Va. – March 19 is Certified Nurses Day, a special day of recognition and celebration for certified nurses around the world. WVU Medicine Berkeley Medical Center and Jefferson Medical Center are joining this national celebration in recognizing their 118 certified nurses.
"Certified Nurses Day is an opportunity to recognize these nurses for their professionalism, leadership, and commitment to excellence in patient care," Vice President/Chief Nursing Officer Samantha Richards, R.N., M.S.N., M.B.A., said.
Board certification of nurses plays an increasingly important role in the assurance of high standards of care for patients and their loved ones. While a registered nurse (RN) license provides entry to general nursing practice, the knowledge-intensive requirements of modern nursing require extensive education, as well as a strong personal commitment to excellence by the nurse.
There are many nursing certification specialties, such as medical-surgical, pediatric, pain management, cardiovascular, obstetric, surgical, emergency nursing, and many others. Nursing certification bodies exist to serve the full range of specialized nursing care offered in the contemporary healthcare system.
"Certification is a voluntary process that signifies that a nurse has developed specialty knowledge beyond the entry level," Richards said. "We encourage national board certification for all our nurses."
Berkeley Medical Center and Jefferson Medical Center employ registered nurses with certifications in more than 30 different medical specialties. National nurse-certifying bodies should be accredited by either the Accreditation Board for Specialty Nursing Certification or the National Organization for Competence Assurance, or both.
"Knowledgeable nurses are better equipped to recognize problems and take appropriate actions, resulting in better patient care," Richards said. "Please join us and the nation's national nursing certification organizations in honoring our hardworking, dedicated nurses for their professionalism and a job well done."
For more information: Teresa McCabe, Vice President of Marketing and Development, 304-264-1223