Blood drive at J.W. Ruby Memorial Hospital March 15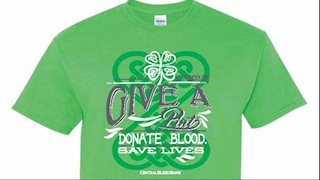 MORGANTOWN, W.Va. – Every two seconds, someone needs blood, platelets, or plasma to survive. These patients depend on blood donors to roll up their sleeves and give the gift of life.
WVU Medicine J.W. Ruby Memorial Hospital is hosting a blood drive from 9 a.m. to 2 p.m. on Wednesday, March 15, in the atrium of the WVU Cancer Institute's Mary Babb Randolph Cancer Center. The event supports Central Blood Bank, J.W. Ruby Memorial Hospital's supplier for blood products.
All participating donors will receive a free "Give a Pint" t-shirt.
Appointments are recommended. To make an appointment, please:
• visit centralbloodbank.org, click "Make an Appointment," and search with group code W4310004,
• download the Central Blood Bank Mobile App for your smartphone, or
• call Rachel at 412-209-7241.
To save time at your appointment, complete your health history questionnaire online using DonorPass. The questionnaire must be completed on the same day as your donation. To begin the questionnaire, visit www.centralbloodbank.org/donorpass.asp.
The Mary Babb Randolph Cancer Center is located at 1 Medical Center Drive in Morgantown. Donors are asked to park at the top of Medical Center Drive and use the entrance near the Betty Puskar Breast Care Center, then follow signs to the atrium.
The next blood drive is scheduled for Monday, April 24.
For more information: Sarah Wisniewski, Communications Specialist, 304-293-7087