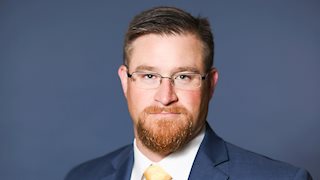 MARTINSBURG, W.Va. – Scott Mathis, C.H.C, C.H.F.M., facilities manager at WVU Medicine Berkeley Medical Center, was recently recognized by the American Society for Health Care Engineering (ASHE) at its 56th Annual Conference and Technical Exhibition held in Baltimore, Maryland.
Mathis received the ASHE's Regional Leader Award for Region 3. This prominent award recognizes 10 exceptional individuals, one from each ASHE region, for their exemplary leadership skills and their commitment to the field of health care facility management through their local and/or national involvement with ASHE.
The award recognizes members who have made contributions to the fields of health care engineering and facilities management; planning design and construction; safety; clinical and biomedical engineering; and technical management.
ASHE is a professional membership group of the American Hospital Association with more than 12,500 members. The organization is a key source of professional development along with industry information and advocacy. For more information visit www.ashe.org.
--WVU Medicine--
For more information:
Teresa McCabe, Vice President of Marketing & Development, 304-264-1223,