New website for Bravo! Program debuts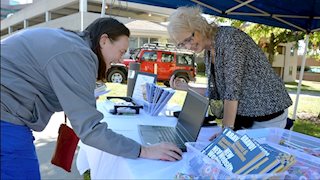 The Center for Education and Organizational Development (CEOD) unveiled and demonstrated its new Bravo! website Oct. 5 at several locations around campus.
Bravo! Program representatives, along with its TAG (Thanks, Appreciation, and Gratitude) team members, helped launch the site and were on hand to help employees become familiar with it. Along with information, Bravo! Program reps handed out goodies, and employees had a chance to win prizes.
The goal of the new website is to provide WVU Medicine employees with an easier way to recognize their co-workers, keep up-to-date on upcoming Bravo! events and news, and have access to recognition information and ideas. With new mobile capabilities, employees will be able to access the site from almost anywhere.
Each employee has their own profile and recognition/information streams daily on the main wall. Employees will still be able to recognize co-workers with Instant Applause and Bravo! award nominations, and they'll still be able to purchase discounted tickets.