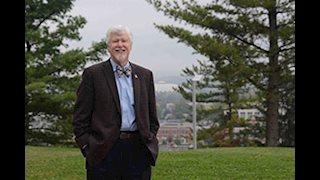 First permanent dean leads WVU School of Public Health
A WVU search committee led by WVU School of Medicine Dean Arthur J. Ross III, MD, MBA, selected Gregory A. Hand, PhD, MPH, to be the School of Public Health's first permanent leader.
What are some of the goals that you would like to accomplish as dean of the WVU School of Public Health?
Higher education is the quintessential knowledge economy. My job as dean is to facilitate the discovery, dissemination, and application of knowledge related to the health of the public. The best way that I can do that is to help recruit and retain great faculty, great staff, and great students. It is vital to get the word out that important work is ongoing in WVU's School of Public Health and that we welcome passionate people who want to partner in our efforts to improve the health of West Virginians.
What about the WVU School of Public Health piqued your interest initially?
It's a new school of public health at an academic health sciences center, the only school of public health in the state of West Virginia, and the significant public health problems of West Virginia are some of the most challenging in the nation. I hope that my collaboration with the folks at the School of Public Health will help accelerate our understanding of the prevalent health issues in West Virginia and allow us to develop effective solutions for those issues.
How do you hope to use your research and academic experience to help improve the public health of West Virginians?
As a scientist, an educator, and an administrator, I know that communication and collaboration are critical in solving problems. This is especially true in addressing population health issues arising from cultural, behavioral, and environmental challenges. I hope that my experience working with a wide range of community stakeholders and policy makers will add value to the good work currently underway in the School of Public Health.
What would you like people to know about you that they might not be aware of?
I am an advocate for being physically active and believe that sedentary behavior is the root of many of our health problems. You will probably see me walking around campus often. And while I tend to walk fast, I hope that people will feel comfortable introducing themselves.
What tips would you like to offer public health students at WVU?
Solving our health challenges will require broad, interdisciplinary collaborations among researchers, community members, and policy makers. So, don't limit your work and experiences unnecessarily – learn as much as you can about as much as you can. It takes courage to challenge conventional wisdom, and it takes dedication to accept the responsibility of protecting the health of the population. Be courageous, be dedicated, and don't ever lose track of your goals.