Three graduates receive WVU Medicine Leadership Scholarship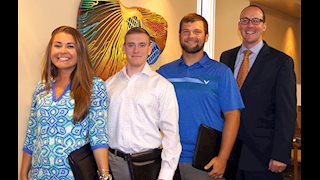 MORGANTOWN, W.Va. – Three local high school graduates are the recipients of the 2015 WVU Medicine Leadership Scholarship. Each award winner earned a one-time $1,000 scholarship for use at any college or university. This annual program is open to children of current, non-faculty employees at WVU Medicine's Ruby Memorial Hospital, Physician Office Center, and various outpatient clinics.
WVU Medicine President and CEO Albert Wright announced the awardees:
Roy C. Bowlen, son of Michelle Bowlen, R.N., R.N. clinical records reviewer in Corporate Compliance, and Roy S. Bowlen, graduated from Laurel Highlands High School and plans to attend Penn State at University Park to study biochemical engineering.
Jacoby Steele, a Clay Battelle High School graduate, is the son of Elizabeth Steele, a professional coding analyst in Health Information Management, and Steven D. Steele. He plans to study nursing at Shepherd University to become a pediatric nurse practitioner.
Sarah Topardo, daughter of Joyce Topardo, medical technologist in clinical labs, and Larry Topardo, graduated from Fairmont Senior High School and plans to attend the WVU School of Nursing to become a nurse anesthetist.
To qualify for the scholarship, students had to demonstrate leadership in school and/or community activities, quality performance in extracurricular and volunteer programs, and high academic performance. They also had to submit an essay detailing an important leadership experience.
Photo identifications: 2015 WVU Medicine Leadership Scholarship winners (left to right) Sarah Topardo, Roy C. Bowlen, and Jacoby Steele with WVU Medicine President and CEO Albert Wright
--WVU MEDICINE--
15-122
For more information: Amy Johns, Director of Public Affairs and Creative Services, 304-293-7087
sw: 07-29-15