Back to

News
WV STEPS hosts immersive ultrasound training session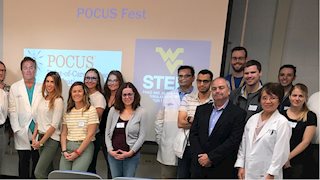 Point of Care Ultrasound Fest was held on Saturday Sept. 21 at the WV STEPS Center.
POCUS Fest was a half-day immersive ultrasound experience designed to introduce the attendees to using ultrasound technology in their clinical practice. The event started with a keynote address given by Dr. Hong Wang, professor and vice chair of the Department of Anesthesiology and a welcome message from Dale Cry, Inteleos CEO.
Nearly 30 residents, certified registered nurse anesthetists, physician assistants and medical students rotated through focused clinical ultrasound stations. Sessions included focused ultrasound scanning, simulated first trimester obstetrics, and abdominal aortic aneurysm.
Clinical instruction was provided by STEPS specialist, Adam Hoffman, attending anesthesiologists and staff from POCUS Academy.
POCUS Fest was cosponsored by the Point-of-Care Ultrasound Certification Academy and the nonprofit Inteleos. The POCUS Certification Academy offers clinical certificates and specialty certification assessments designed to independently validate clinical proficiency.