WVU School of Medicine Alpha Omega Alpha Honor Society inducts new members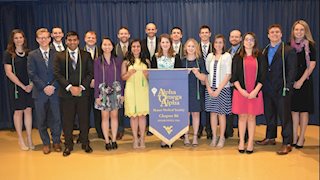 On Friday, March 24, members of the West Virginia University School of Medicine classes of 2017 and 2018, as well as medical residents and faculty, were inducted into the Alpha Omega Alpha Honor Medical Society (AOA).
"Worthy to serve the suffering," is the motto of the national honor society, and criteria for selection include scholastic excellence, as well as integrity, capacity for leadership, compassion and fairness in dealing with colleagues.
WVU's medical students do more than just learn about how to care for patients. They put their learning into action with community service projects around the area. The West Virginia Alpha Chapter of AOA is active in academic work, community service and social organizations such as Habitat for Humanity, Sundale Nursing Home and area schools. Alpha Omega Alpha members also tutor younger medical students in practicing for upcoming clinical exams.
"Our society values honesty, honorable conduct, morality, virtue, unselfishness and leadership as core concepts both in the practice of medicine and in life," Luke Grome, WVU medical student and West Virginia Alpha Chapter 2017 vice president, said. "Members have a compelling drive to do well, advance the medical profession and exemplify the highest standards of professionalism. The new inductees were chosen because they exemplify these qualities".
Alpha Omega Alpha is the only national medical school honor society and was organized by William W. Root, M.D. and five other medical students at the College of Physicians and Surgeons in Chicago, Illinois, in 1902. Eligibility requires academic rank in the top quartile of the class. Only one-sixth of a class may be elected to membership, with a maximum of one-half of this number elected in the third year of medical school.
The WVU School of Medicine supports the West Virginia Alpha chapter. This chapter was founded in 1962 as the 86th Alpha Omega Alpha chapter. It was organized to promote scholarship and research in medical schools; encourage a high standard of character and conduct among medical students and graduates; and recognize high attainment in medical science, practice, and related fields.
This year's inductees include: Class of 2017 medical students – Natalie Ferretti, Alyson Leo, Kevin Lynch, Linda Nguyen, Kaylee Purpura, Blair Saul, James Scheidler, Sriginash Sharma, and Brandon Wilson. Class of 2018 medical students – Paul Burchard, Joshua Farris, Frank Lacy, Morgan Lough, Brandon Lucke-Wold, Nainika Nanda, Phillip Pifer, and Lauren Rover. Medical resident – Chad Morley, M.D. Medical faculty – Jeffrey Hogg, M.D.
Featured speaker at this year's ceremony was Richard W. Thomas, M.D., D.D.S., president, Uniformed Services University of the Health Sciences, professor of Military and Emergency Medicine, professor of practice of Military Dentistry. Dr. Thomas is a retired Major General in United States Army and a 1986 graduate of the WVU School of Dentistry and a 1994 graduate of the School of Medicine. He was deployed for Operations Just Cause, Enduring Freedom and Iraqi Freedom, and he served as commanding general of Western Regional Medical Command, surgeon general for the U.S. Forces-Afghanistan and senior medical adviser for the international Security Assistance Forces Joint Command-Afghanistan.
Dr. Thomas addressed inductees and their families at 4:00 p.m. at the WVU Health Sciences Center with the topic "Military Medicine – Battlefield to Bedside" followed by the induction ceremony at 5:00 p.m.
For news and information on the WVU School of Medicine, follow us on twitter @WVUMedSchool, like us on Facebook or visit medicine.hsc.wvu.edu.
-WVU-
Photo Caption: Students in the WVU School of Medicine Classes of 2017 and 2018 were inducted into the West Virginia Alpha Chapter of Alpha Omega Alpha Honor Medical Society on Friday, March 24 at the WVU Health Sciences Center.
Contact:
Tara Scatterday
Director, Communications & Marketing
WVU School of Medicine
304-293-0630 | tdscatterday@hsc.wvu.edu