WVU HSC Biomedical Sciences Alumni Profile: Dr. Chris Bostick
Chris Bostick, Senior Associate at OCV Partners, Los Angeles, CA
PhD in Pharmaceutical and Pharmacological Sciences, WVU Health Sciences Center, graduated in 2015
Chris's research in graduate school focused on understanding Cytochrome P450 metabolism kinetics and electron transfer through study using protein immobilization.
What advice do you have for current WVU students?
"I would emphasize learning how the skills in whatever area of research your doing can be translated to drastically different areas. For myself my PhD was very different from my post-doc, but I found a lot of ways to translate what I knew to solve problems in and do research in a new field."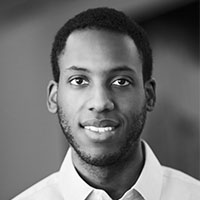 Contact us regarding Research @ the HSC