MORGANTOWN — The WVU Medicine Jon Michael Moore Trauma Center honored two patients and their caretakers at their 8th Annual Night of Recognition on Oct. 5. The event, held at the Morgantown Event Center at Waterfront Place, was a platform for the patients' stories to be shared and to recognize the hard work and dedication of their caretakers.
"We take care of about 3,000 trauma patients a year," Alison Wilson, director of the trauma center, said. "About a quarter of those patients are severely injured. So one of the things we wanted to do is to have people recognize the importance that they play in each one of these patient's lives."
85 Cornerstone of Recovery Awards were presented to those who helped with their care and recovery.
The two patient honorees this year were Chad Kirtley, of Jane Lew, and Kevin Eckenrode, of Carrolltown, Pa. Both received extensive care for their injuries through the Trauma Center.
The Trauma Center, at Ruby Memorial Hospital, was founded in the 1980's with the assistance of the late U.S. Senator Robert C. Byrd. The trauma center has a reported 97 percent survival rate, meaning 97 percent of patients admitted make recoveries and are able to readjust to daily life post-trauma.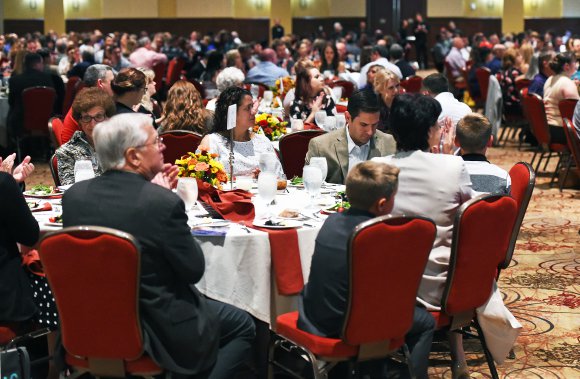 ---
Through sponsorship and ticket sales, proceeds of the Night of Recognition will provide crucial funds to the School of Medicine Department of Surgery to help support the life-saving work of the JMMTC which provides outreach, teaching, research and service to your trauma system team, your community, and your families.