Being Home in Elkins
Expect Elkins to be cool and for residents to sell you on its coolness. The sale is easy - Elkins is alive.
A WVU Extension video called "Voices for Change" can guide your expectations. From Elkins, you can easily access local art, music, coffee, beer, food, clean creeks, and lush forests in the incredible biodiversity of the Canaan Valley, Dolly Sods, and the Mon National Forest. And people are exceptionally friendly. My introduction to Elkins began with a tour of the tastefully renovated YMCA.
After the tour, my new friend Sid and I walked around Elkins, went into restaurants and onto house porches for Sid to briefly introduce me. Another day, I met with our landlord, who mentioned the possibility of spaghetti dinners with you, student tenants who stay during your clinical experiences. Elkins' genuine hospitality is contagious and pervasive. Engage the community here: 
Food
Beander's Restaurant and Tavern
Clara Belle's - live music (lunch, dinner and coffee)
Uncle Bill's Ice Cream Stand
CJ Maggie's
El Gran Sabor authentic venezuelan cuisine
Smoke on the Water - bbq 
The Forks Inn. Located on top of a mountain with great views
Vintage (downtown) 
1863 Appalachian Bistro
Entertainment
Brewstel. Craft beer on tap, plus brewing supplies and a hostel 
Big Timber Brewing
Tip Top Coffee. Find a private study space enclosed by antique doors.
Davis and Elkins College. Home to Augusta Heritage Center (music). 
American Mountain Theater
Durbin (30-40 miles) and Greenbrier Valley Railroad. Four tourist trains including a Polar Express
Excursion trains out of Elkins
Mountain Rail West Virginia
Augusta Heritage Center. Features old time music and crafts
Mountain State Forest Festival (late September through early October)
Outdoors
Allegheny Highlands Trail - hike or bicycle from north Elkins all the way to Hendricks, near Thomas and Davis
Canaan Valley and Snowshoe Ski Resorts and more - 40-minutes from Elkins for hiking, mountain biking, XC skiing, downhill skiing
Otter Creek Wilderness Area - hiking just 25-minutes east of town
Monongahela National Forest (main office is in Elkins with trail maps) - Lush forests with big rocks, moss, wildlifeSwim or float in the Shavers Fork creek in the Stuart Recreation Area - beautiful Mon Nat'l Forest area basically in Elkins
Elkins is considered a gateway to pristine trout fishing. Gear up at Elk Springs Resort and Fly Shop (1-hr south)
Disc golf at Davis and Elkins College - short course great for beginners
Seneca Rocks is outstanding! 45-minutes east of Elkins.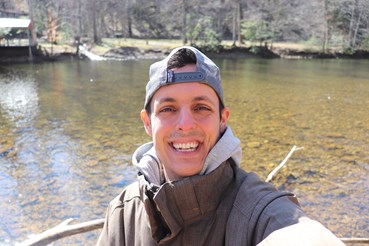 E-mail Gerardo Patron with feedback on your adventures in Elkins! We can post comments on this page.
The views, thoughts, and opinions expressed on this website belong solely to the author and not the author's employer, West Virginia University.  They are not intended as an endorsement or recommendation on behalf of West Virginia University of any person, organization, activity, product, or service.