WVU School of Nursing ranks in top 100 best nursing schools for master's degree by U.S. News and World Report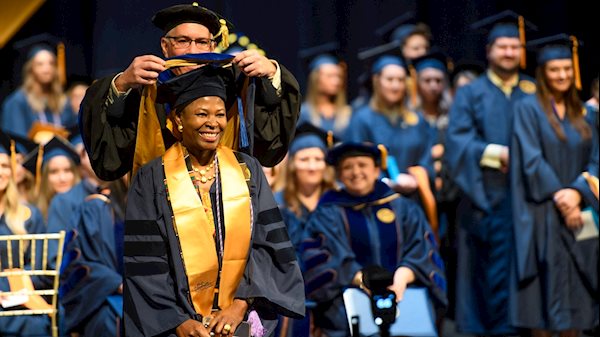 MORGANTOWN, W.Va. — In a recently released ranking, U.S. News & World Report named West Virginia University School of Nursing as one of the top 100 nursing schools in the nation for a nursing master's degree.
The Master of Science in Nursing (MSN) at WVU offers baccalaureate-prepared nurses the opportunity to earn a master's degree online on a part- or full-time basis. The current specialty track prepares students to certify as family nurse practitioners (FNPs).
"Our expert faculty are passionate about helping nurses grow their skills and knowledge in the field," said Dr. Tara Hulsey, Dean and E. Jane Martin Endowed Professor. "This recognition is a testament to the high-quality education and training our graduate students receive at the WVU School of Nursing."
According to U.S. News & World Report, the schools were ranked by faculty resources, research activity, quality assessment, master's program size and student selectivity. Of the 184 schools ranked for their nursing master's program, WVU School of Nursing landed at No. 96.
"This program is a wonderful opportunity for nurses to pursue higher education and advance their scope of practice to positively impact our current future healthcare systems," said Dr. Kendra Barker, track coordinator for the FNP program. "Our successful annual board certification pass rates demonstrate that our graduates are receiving high-quality education and training at WVU."
As an alum of both the MSN program and the post-master's FNP certificate program, Barker said she was able to balance her work, family and school obligations through the part-time progression plan.
"The program really fit my needs at the time to be able to pursue my dream of becoming a Family Nurse Practitioner," Barker said. "I encourage any nurse with the same desires to apply to our program and take steps toward achieving these goals. Many of our faculty have walked these same paths and we are here to support nurses in practice while advancing their roles and scope for a better healthcare future."
Established in 1960, the WVU School of Nursing offers innovative academic programs to meet the demands of an ever-changing healthcare landscape in-person at five campuses, as well as online program options.
The WVU School of Nursing offers additional graduate level programs, including Post-MSN Certificates; Doctor of Nursing Practice (DNP); DNP Nurse Anesthetist; and PhD.
WVU School of Nursing is accredited by the Commission on Collegiate Nursing Education. For more information, visit nursing.wvu.edu.
-WVU-
CONTACT: Wendy Holdren
Director of Communications and Marketing
WVU School of Nursing
304-581-1772; wendy.holdren@hsc.wvu.edu